I'm confident that by now you'll have seen, read or at least heard about the fires that engulfed the Amazon rainforest earlier this year, thanks to the power of social media. Without the pictures of black smoke enveloping São Paulo trending with #PrayforAmazonia on Instagram, I wonder if the media would ever have peeled itself away from the latest Brexit developments to cover the scandal.
I call it a scandal since these fires were no accident. They weren't wildfires caused by rising temperatures due to the climate emergency. No doubt they were more fierce because of climate change, though, and they will certainly add more heat to our ever-warming planet. They weren't lit thanks to hapless tourists chucking a lit cigarette from the car window, either, or because of an impromptu barbecue that got out of hand. They were lit purposefully by farmers to burn the land and make way for development.
Opening the Amazon up for development and the expansion of agriculture was an election promise by President Bolsonaro. And since his election in January this year, he has wasted no time putting it into action by undermining, dismantling and cutting funding for the bodies charged with protecting the forest. Emboldened by his policies, once the dry season arrived, farmers even organised a 'day of fires' in mid-August, to set the land aflame.
Burning land quickly rids it of old tree stumps and prepares it for cattle, or crops like soya, nearly all of which is turned into animal feed and sold across the world to satisfy our increasing appetite for meat and dairy products.
But it's not just the Amazon. While global attention has been focused there and while over the past two decades at least some protection measures have been enforced, the soya and cattle industries have been trashing the Cerrado, the world's most wildlife-rich savanna. They have destroyed the local environment, aggravating the climate crisis, and they have displaced and committed violence against indigenous and traditional populations that have occupied their territories for hundreds of years.
Bolsonaro has made no secret of his desire to allow mining in indigenous areas of the forest and this year many hundreds of fire hotspots were recorded on indigenous lands. Surely not just a happy coincidence for the President to be clearing the way for the diggers to move in? It seems unlikely. Data analysis by Unearthed – Greenpeace UK's investigative journalism unit – showed fires had actually doubled in indigenous territories this year to September compared with last, strengthening fears that criminals are deliberately targeting these areas.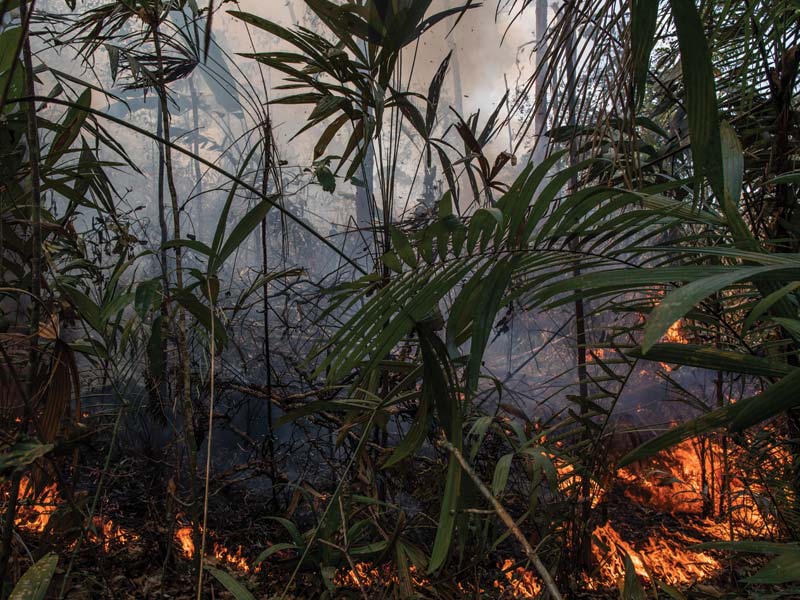 Bolsonaro, of course, claims that Brazil's indigenous people want the wholesale destruction of their lands. He accuses foreign media and NGOs of misrepresenting their views: "You want the indigenous people to carry on like prehistoric men with no access to technology, science, information, and the wonders of modernity… they want to work, to produce and they can't. They live… like cavemen. What most of the foreign press do to Brazil and against these human beings is a crime."
Raoni Metuktire, chief of the indigenous Brazilian Kayapó people, vehemently disagreed in an article he wrote for The Guardian: "You say it is for development – but what kind of development takes away the richness of the forest and replaces it with just one kind of plant or one kind of animal?
Where the spirits once gave us everything we needed for a happy life – all of our food, our houses, our medicines – now there is only soya or cattle. Who is this development for? Only a few people live on the farmlands; they cannot support many people and they are barren."
In October, a delegation of indigenous leaders from the Articulation of Indigenous Peoples of Brazil (APIB) visited the UK, their penultimate stop on a month-long tour of Europe. Their worst fears were realised when Jair Bolsonaro was elected president of Brazil – a man who has said: "It's a shame that the Brazilian cavalry hasn't been as efficient as the Americans, who exterminated the Indians."
Elizeu Guarani represents one of the Brazilian indigenous peoples who have been suffering violence because their land has been invaded by agribusiness. Fifteen major leaders were murdered in Mato Grosso do Sul from 2003 to 2013 but investigations have ground to a halt. For fighting for his rights, Elizeu has been sued by farmers, received death threats, escaped armed ambushes, and has been forbidden to return to the village where he left his family.
The APIB delegation came to Europe to raise the alarm over the threat that Bolsonaro and his supporters in agribusiness pose to the survival of indigenous peoples, of precious forests and to our planet as a whole. They met with government ministers, trade bodies, law-makers and the public. They staged protests, spoke to the media and invited us to learn more about their lives and their role as our greatest forest guardians. And we must listen.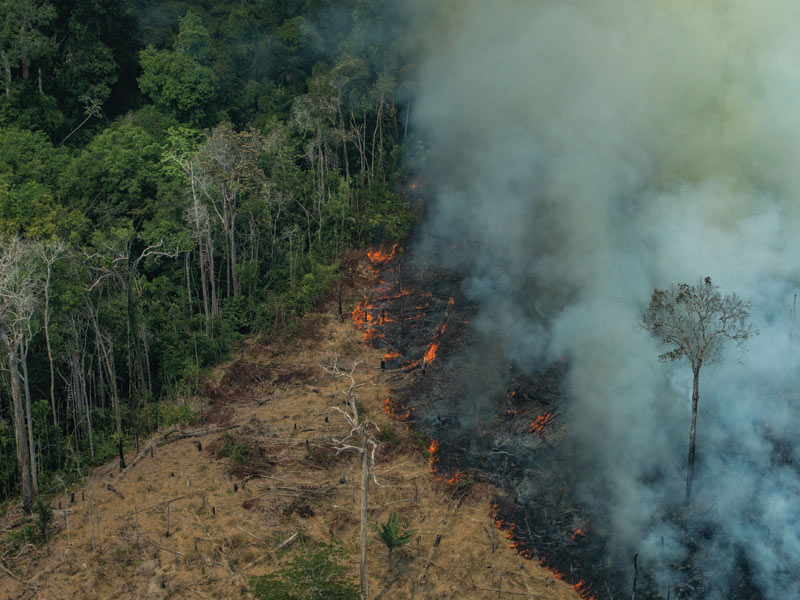 As Greenpeace, we stand with the indigenous peoples and will do all we can to ensure they are heard in the UK and their voices amplified across the world. And alongside them we will continue to campaign until the battle for forests and the environment is won.
This summer, in retaliation against his critics across the world, Bolsonaro claimed "the Amazon is ours." And yet there's some irony in that statement. If other countries like the UK weren't complicit in the trade of products made by destroying the Amazon and other parts of Brazil, there would be no reason for Bolsonaro to do so. He needs us. But we need the forest.
So what's our government doing? Just last month our Environment Secretary, Theresa Villiers, invited her Brazilian counterpart, Riccardo Salles – who wants to "monetise" the Amazon – for talks. Our government was talking trade with Brazil while the fires were raging. Given the current crisis, all trade talks with Brazil should be suspended until the Bolsonaro government changes tack and ensures the Amazon and its people are protected.
If this were to happen, companies like Burger King, KFC and McDonald's, whose products – whether beef, chicken or bacon – are fed on animal feed from forest destruction might finally start to get the message that it's time to change. They have caused the climate crisis and have a responsibility to act.
Earlier this year, the world's top scientists reported that, to prevent climate breakdown, a global reduction in consumption of meat and dairy by 50% would be needed. In the west, that figure looks more like 70%. By replacing most of the meat and dairy they sell with plant-based alternatives, these companies can turn things around.
And if we are eating less but better meat and fish, and far less dairy, and more plant-based foods, we're not just helping the planet, it's a great lifestyle choice and it can be done cheaply too.
So the time for talking is over. Trade deals must be suspended, companies must change their business models, we must change our diets.
What happens to the Amazon affects us all. We ALL need to act.