With its sky-high mountains and prestigious international boarding schools, Gstaad has been a destination for royalty and celebrities alike since the 1960s, when TIME magazine baptised it as "The Place". From Princess Diana to Elizabeth Taylor, Kofi Annan to Madonna, everybody who is somebody have come here and most have stayed at the Palace.
Considered one of the best hotels in the world, the Palace has been owned by the Scherz family for three generations. Now under Andrea Scherz's leadership, the hotel has been modernised and expanded its offer in activities and entertainment, from ski adventures to clubbing evenings and even lunch at the top of the mountains… by helicopter! I've had the pleasure to be a guest there several times and I can tell you that there is no other hotel I've been to where I feel more at home or better cared for. Maybe that's why many guests spend extended periods of time at the Palace. However, I normally only have a weekend, so I pick a mix of relaxation and sport. At the end of the day, the Saanenland region is far too gorgeous not to explore a little bit.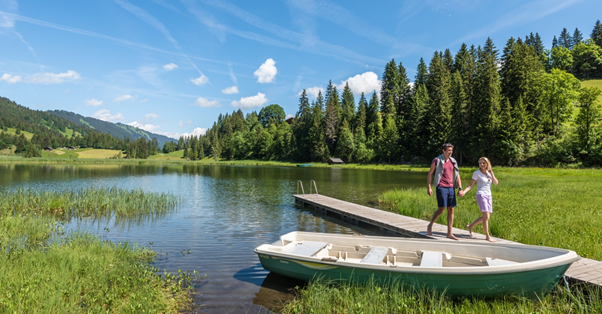 The loop trail around Lake Lauenen is a very popular hike just a few kilometres from Gstaad.
Why not start with cycling around and discovering the many postcard-pretty locations a stone-throw from the Palace. Don't worry about the steep mountains as you have top quality electric bikes available, which will make you feel as capable on two wheels as Eddy Merckx.
Another option is to fly by helicopter to the top of the mountain with your own guide and hike to the Walig Hut where a delicious three-course lunch menu will be waiting for you, accompanied by Swiss wines whose quality will probably surprise you. After such meal I'd recommend you hike a bit further before being picked up by one of the Palace's cars.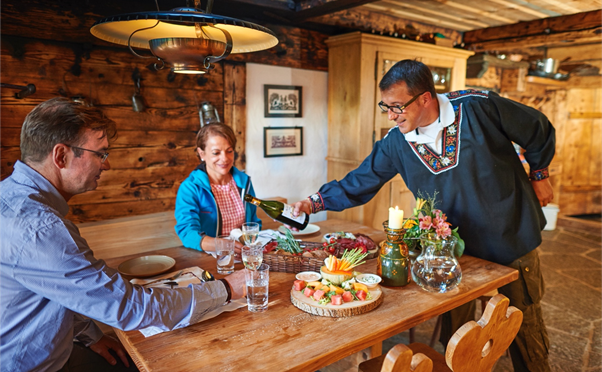 At the Walig Hut you'll enjoy a fabulous three-course lunch served with delicious local wines.
If the chopper is too much adrenaline for you, a great option is to just go hiking. The Palace has two backpack lunches available for you to take with you: one with classical mountain foods and the other more barbecue oriented. There are countless routes to follow with the Palace as your base: Wispile to Lauenensee, Horneggli to Hornberg and so many more!
By the time you get back, you'll most definitely be ready for the Spa. Whether you choose a sports massage or decide to pamper your skin with a scrub made of local mountain herbs and plants, you are sure to feel as good as new, just in time to prepare yourself for the evening… which you should most definitely start with drinks at La Grande Terrasse, watching the pristine summer sky turn dark. As the stars appear above your head, it is time to have dinner at Le Grand Restaurant, a classic outfit with white tablecloths, the finest cutlery and crystalware, soft lighting and live music just at the right volume. The menu is a feast for the senses so you'll find it very difficult to make up your mind. Some of my favourites include the whole northern sole, grilled or meunière, with sautéed spinach and crushed potatoes, the Rainbow trout fillet Palace style with osetra caviar, white wine sauce and boiled potatoes or, if you have been really caning it up and down the mountains, the Simmental beef Châteaubriand, veal sauce and Béarnaise sauce, served with seasonal vegetables and garnishes of the day (for "at least" two people).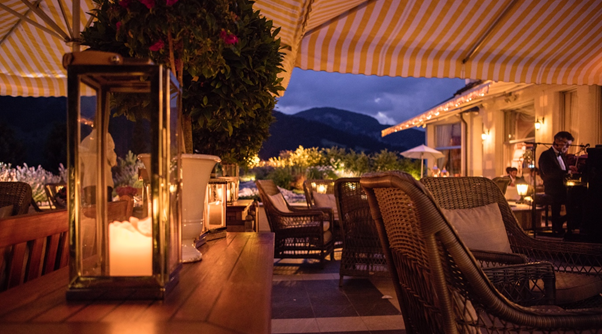 La Grande Terrasse is the perfect spot for evening drinks.
I like having the last drink on the terrace of my room, listening to the buzz below, where music and laughter mix with the clinking of crystal glasses and the tapping of vertiginous high heels on the terrace tiles; a scene that always seems to me belongs in an F. Scott Fitzgerald novel.
I always spend my second day by the legendary Olympic-sized pool of the Palace, which dates back to 1928. This year, the "Piscine" area has a new bar serving swanky cocktails and a menu of culinary delights in its restaurant-like setting or by the waterside, so you can keep languishing on a lounger in the summer sun having a refreshing swim every now and then. Add a good book and you'll be surprised how fast the hours go by.
The "Piscine" area has a new bar serving swanky cocktails and a light menu
As the Spa-addict I am, I would indulge myself in another session, this time from their "Spa around the world" set. This is an original way to package treatments with a bit of extra fun. There are four choices: Thailand (Thai massage, reflexology and fit boxing), India (Shiva Ananda Kizhi therapy, yoga session and peaceful mind massage), Morocco (two-hour Hamman experience in a private suite including Moroccan tea) or Italy (couple massage in a private suite, rose scrub and a glass of wine).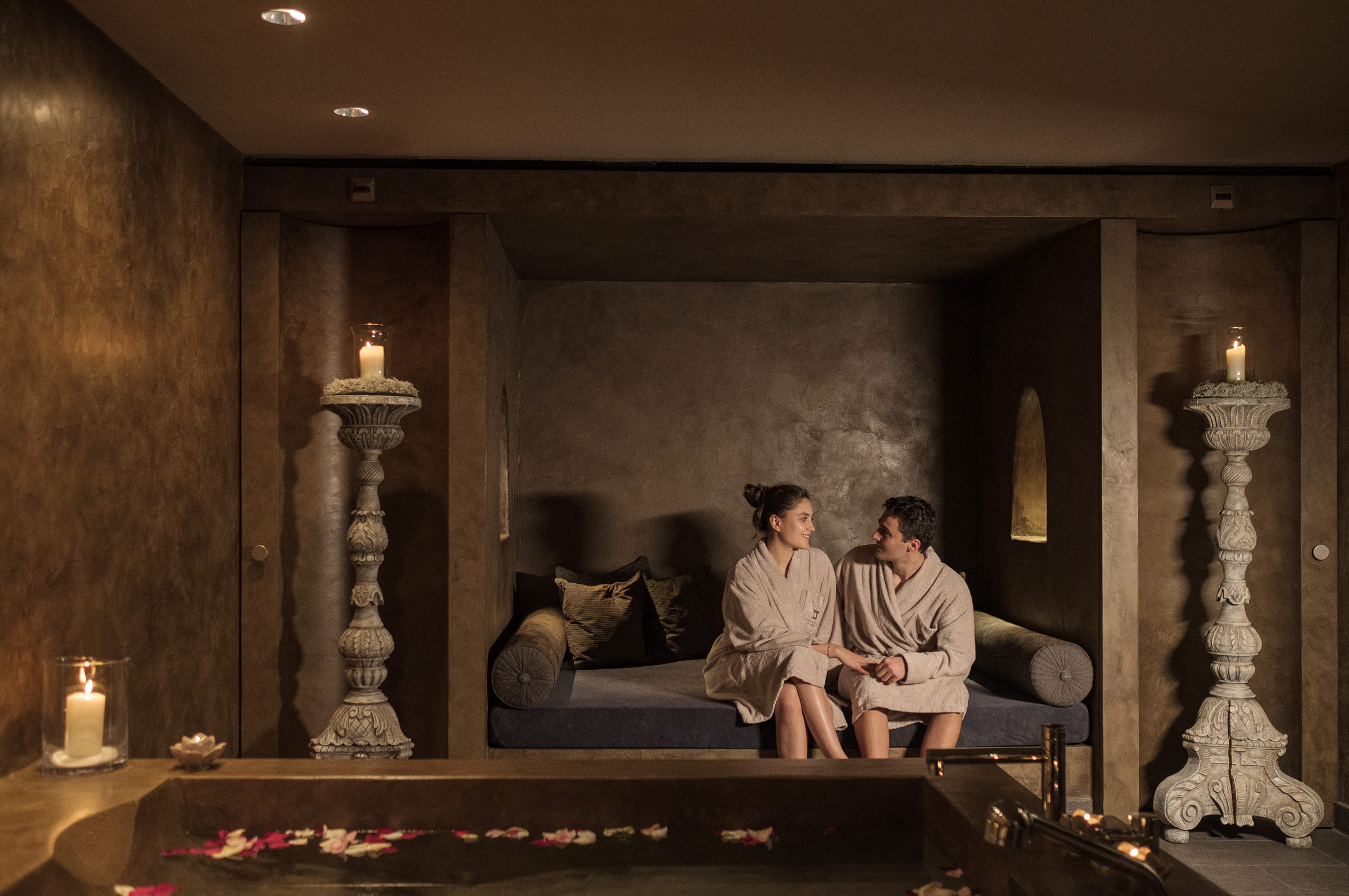 The "Italy" Spa option offers a couple massage in a private suite, rose scrub and a glass of wine.
Trust me when I say that you'll be sorry to leave the Palace. There is something truly magical about this place that I haven't quite found yet anywhere else.
Opening picture by Nico Schaerer