All Too Human: Bacon, Freud and a Century of Painting Life
Tate Britain, until August 27th
By Lavinia Dickson-Robinson
This awe-inspiring exhibition gives us an insight of two incredible British artists whose painting revolutionised the way the human form was depicted in the most intimate manner. To quote the Tate "this landmark exhibition at Tate Britain celebrates how artists have captured the intense experience of life in paint."
It is not only Freud and Bacon's works that are being showcased in this exhibition, but also works by Alberto Giacometti, Francis Newton Souza, Stanley Spencer, William Coldstream, Euan Uglow, Dennis Creffield, Leon Kossoff, Frank Auerbach, Michael Andrews (whose painting of Melanie and me swimming is enchanting) RB Kitaj and photographs by John Deakin. This exhibition makes poignant connections across generations of artists and tells an expanded story of figurative painting in the 20th century and into the 21st century.
There is also a good representation of young female artists of that generation such as Celia Paul, Jenny Saville, Cecily Brown, Lynette Yiadom-Boakye and especially Paula Rego, who explores the condition of women in society and the roles they play over the course of their lives.
Lucian Freud was renowned for his unflinching observations of anatomy and psychology, which were accentuated over the years, becoming increasingly sculptural and visceral over time.
Francis Bacon painted some of the most dramatic and traumatised post war images of the 20th century.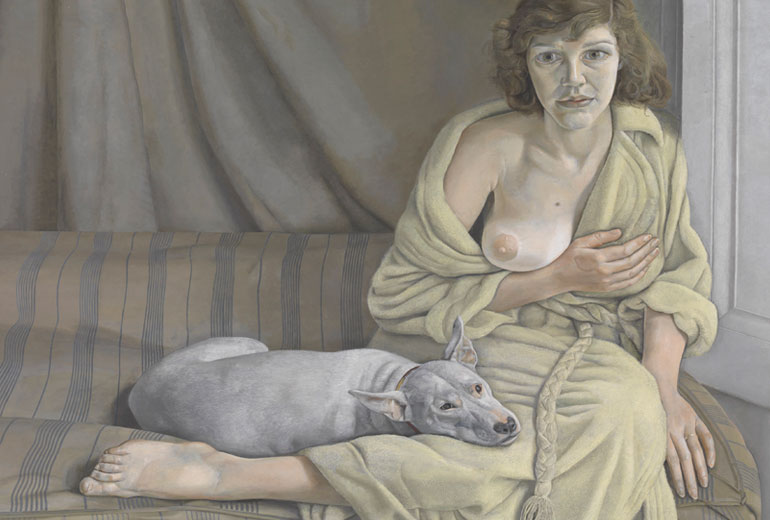 He took inspiration from many media: film, photography and the old masters. He created his own undominated style which is still revered, recognised and admired today. In fact, this exhibition looks at his relationship with photographer John Deakin, whose portraits of friends and lovers were often the starting point for Bacon's work, such as Portrait of Isabel Rawsthorne 1966.
One of the most important works in this exhibition is a large-scale painting by Francis Bacon of his Friend Lucian Freud, Study for a Portrait of Lucian Freud 1964. It was shown in London shortly after it was completed and then in Hamburg and Stockholm in 1965. Since then, it has been in a private collection and has been loaned to The Tate Britain solely for this exhibition.
Francis was over a decade older than Lucian, but their meeting in the mid 1940's sparked a friendship that spanned over a quarter of a century. Although there was a great sense of rivalry between them, they were in many aspects the greatest friends. Freud's second wife later recalled that she saw Bacon for dinner "nearly every night for the whole of my marriage to Lucian. We also had lunch."
In the studio they would study each other's work intensely offering comments and criticism. As it seems Bacon said to David Sylvester in 1966: "Who can I tear to pieces, if not my friends? …If they were not my friends, I could not do such violence to them."
In the end the two men did fall out. Freud thought Bacon's work ghastly and Bacon fully reciprocated. This rivalry helped to ensure that their works were sold as some of the most expensive paintings in the world. They believe their great falling out started when Bacon mocked one of Lucian's paintings that had been bought for the Saatchi collection. In an audio tape recently recovered, Francis Bacon poured scorn on Freud ridiculing one of the paintings sold to the Charles Saatchi Collection, saying " Certainly the ones (Saatchi) bought of Lucian's are the worst ones I have ever seen". In another tape from 1982, Bacon lamented that Freud "doesn't want to see me."
Despite their friendship coming to an end, they remained so tightly associated in the public eye and the art world that their bond remained unbreakable. Freud had an early work by Bacon hanging on his bedroom wall for most of his life. He said "I've been looking at it for a long time now, and it doesn't get worse. It really is extraordinary." Alex Farquharson, Director, Tate Britain commented: "This is an unmissable opportunity to see truly extraordinary paintings, many of which have not been seen for decades. With this exhibition we want to show how British figurative painters found new and powerful ways to capture life on canvas throughout the 20th Century, and Bacon's portraits are some of the greatest examples of that endeavour".