I am sure you'll be wondering how this is possible, aren't you? Well, it is much simpler than you'd think. Diamonds are made of pure carbon, and thanks to pollution, we have plenty of it in our atmosphere.
This idea blew Lily Cole's mind. As a humanitarian and environmental activist, Lily has had for a long time a controversial relationship with these sparkling beauties extracted from under the skin of our planet. Lily learnt about the company making diamonds out of thin air – Skydiamond – when researching for her book, Who Cares Wins Reasons For Optimism in Our Changing World. "Diamonds are synonymous with beauty," declares Lily, "but for many years the mining of jewels has been a very ugly business." Lily's concern is not new. As early as 2005, she announced that he would no longer model for De Beers after being alerted to the situation of the Kalahari Bushmen being evicted from their lands in Botswana.
"Being able to mine the sky represents the perfect metaphor of how we ought to be evolving every industry in the face of the climate crisis: carbon negative by design; a solution rather than a problem. That's why I became such a supporter of Skydiamond's mission." In fact, for quite some time, Lily has been calling for an end to traditional diamond mining and advocating for sustainable fashion. "Scientists tell us we have to not only reduce carbon emissions but also remove carbon dioxide from the atmosphere," she explains. "There are many ways to do this, from nature itself to artificial trees and other high-tech solutions; mining the sky instead of the earth to produce diamonds is one of them. Such a crazy and amazing concept!"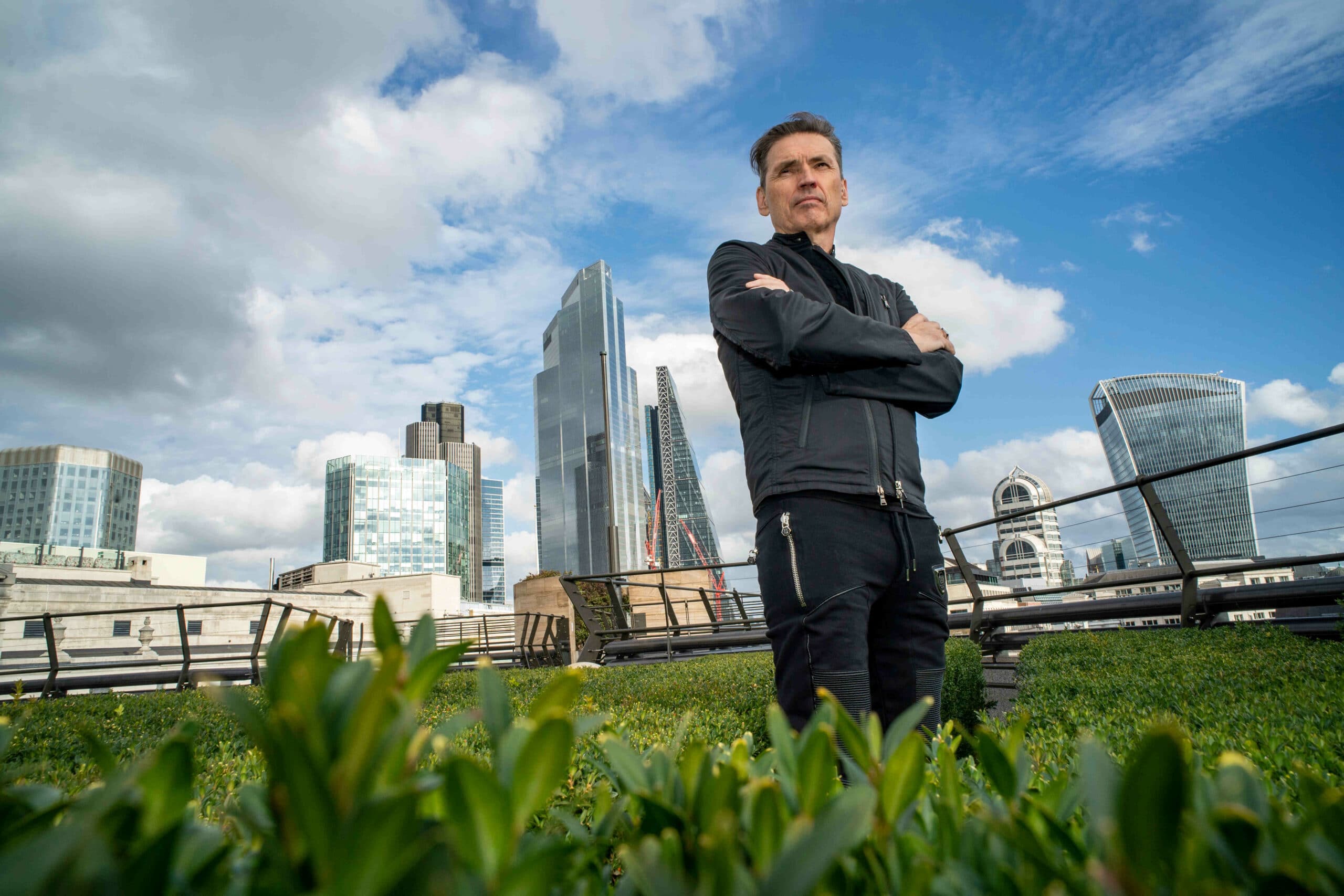 Founder of Skydiamond Dale Vince spent a lot of time as a kid wondering about the sustainability of our way of life.
This is the oversimplified mental process that Dale Vince, founder of Skydiamond, followed to create the world's first and only conflict-free diamonds made entirely from renewable energy. Dale has always been interested in sustainability. He is, what we could call, a green-tech pioneer. Dale is Chairman of Forest Green Rovers, recognised by the United Nations as the world's first carbon-neutral football club, and, before Skydiamond, he founded Ecotricity, a provider of fully sustainable energy.
Contrary to what most people think, producing diamonds this way is not energy-intensive or ridiculously expensive. Dale explains that although the process is still more costly than digging the gems out of the ground, in terms of carbon footprint, there is no comparison. According to a study by Imperial College London commissioned by Skydiamond, a carat of diamond extracted from a mine requires digging out over a thousand tonnes of rock, which leave an average of 30 tonnes of toxic metals exposed to the environment, gulps 5,000 litres of water and generates half a tonne of greenhouse gases. I know, when I learnt this, I looked at my engagement ring too. Ouch! Watching my face go pale, Dale adds, "and 30 per cent of all diamonds in the world come from Russia."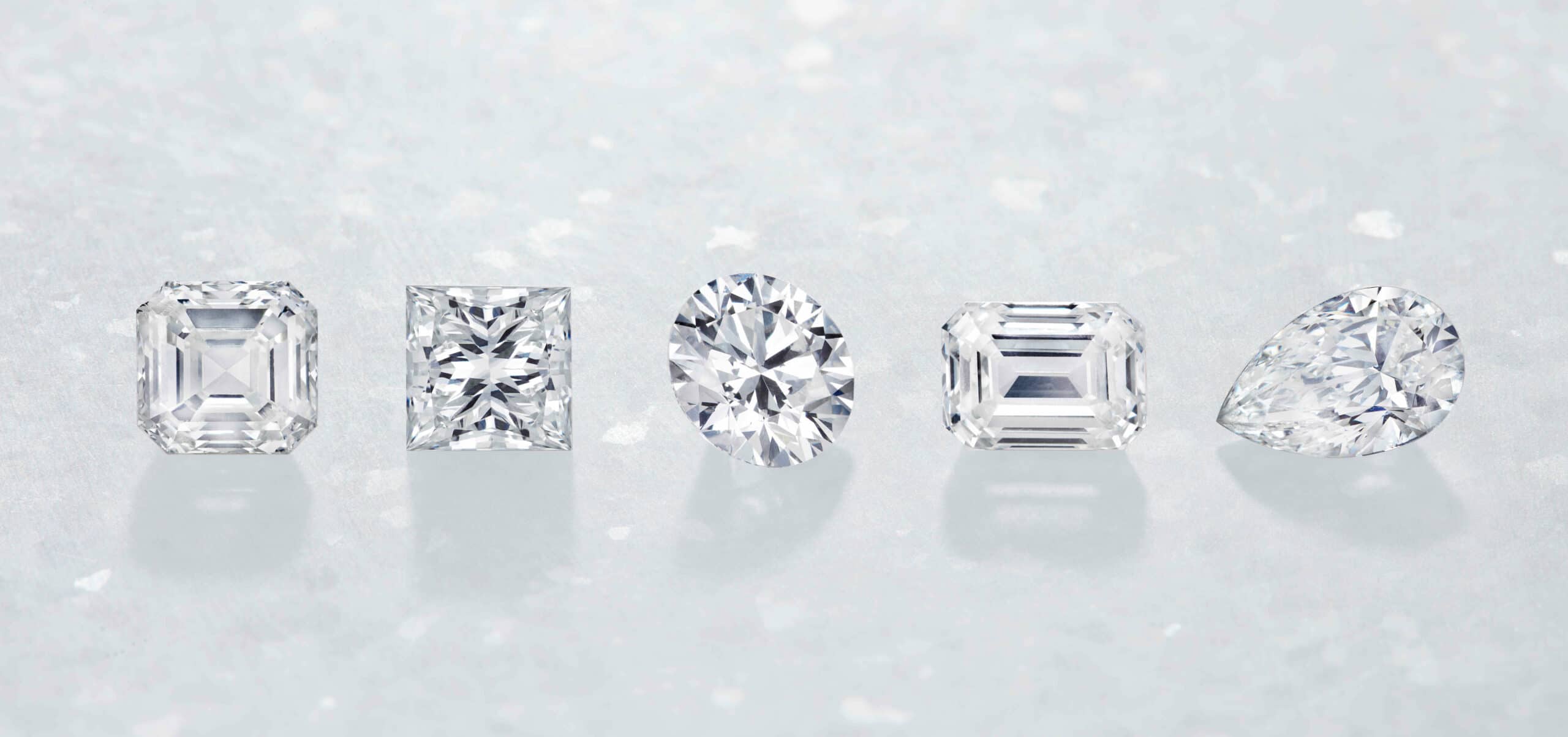 After seven years of development, the first sky-mined diamonds are available to the public.
The carbon used to make the diamonds is taken from the air we breathe, wind and sun provide all the energy, and the water used is captured rain. This is completely new in the jewellery industry. The first brand to jump on board was Stephen Webster and others are queuing to work with Dale's sky diamonds. Short term plans include offering engagement rings directly to the public from their website and a bit further down the line, licensing the production process.
Dales' positive attitude towards the future is shared by Lily personally and reflected in the tone of her book, which starts from the premise that optimism is an active and plausible choice, one that demands action. "I've met with people from all over the world who are working on finding solutions and are committed to creating a more sustainable and peaceful future for humanity," she explains. Exploring issues from fast fashion to fast food and renewable energy to gender equality, her book features interviews with international leading voices, from entrepreneurs like Stella McCartney and Elon Musk to activists Extinction Rebellion co-founder Dr Gail Bradbrook and Farhana Yamin, all of whom are trying to make a difference.
For this very reason, iconic photographer Rankin was delighted to join forces with Skydiamond and Lily Cole to spread the word about these precious gems from the sky. "I've always tried to contribute with my work to causes with a strong purpose," Rankin shares, "be that with UNICEF, Comic Relief or other initiatives. Part of what I do as a photographer, as a creative, is to try to change the world for the better, so when they came to me with this concept, I wanted in immediately. Actually, I wondered why I hadn't known about this a decade earlier."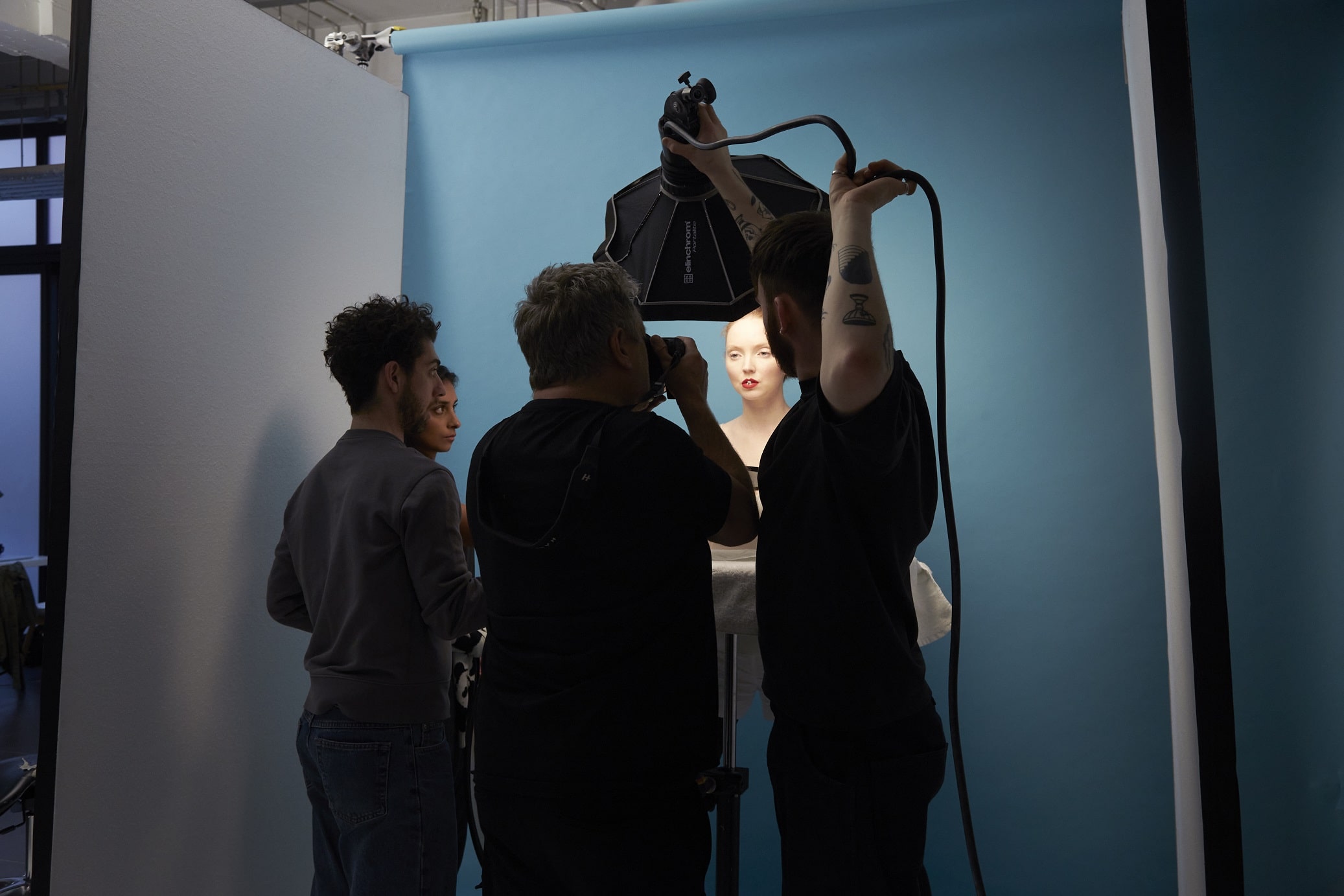 Behind the scenes at Rankin's studio in North London for the shooting of Skydiamond's campaign with Lily Cole.
Jewellery has historically been used to show status and power. "When we started to shoot with Rankin, I focused on transmitting desire," Lily explains, "since I believe diamonds are about wanting to be desired or desiring something." Of course, sexiness runs much deeper. It is not just about physicality. "It is also about the story, the intention and how something works," Lily concludes, "the positive impact it has. I suppose we couldn't find a better example for this kind of sexiness than diamonds made out of thin air."
On the other hand, like Dale, Lily is very vocal about jewels coming from traditional mining. "I don't find this kind of jewellery attractive or sexy," she states, "because I know that behind all those pieces there is an ugly story that often involves the exploitation of limited natural resources and the suffering of many people, particularly women. To me, that is not beautiful."
Curiously enough, there are many more women members of conservation organisations than men and female politicians are more likely to enact environmental legislation. Although some believe that this is due to women begin less predisposed to being competitive, being more caring and working better as a collective than men, Lily is reluctant to fully support these theories. "We see in many indigenous societies that men are very involved with rearing children and women are the decision-makers rather than the men… so I don't think that the traditional gender assignment of roles is based on genetics but on the social construct. Besides, we are now aware that gender is just not limited to two sexes."
Fortunately, the young generations are much more aware of these issues than ever before (education and media exposure are strong contributing factors to this increased awareness); and they care. In a way, they seem to realise that they are the ancestors of their own future and that they need to make the changes necessary to create the future they want to live in. As a sociodemographic group highly sensitised about climate change and the deterioration of our planet, they are more concerned about where their clothes and accessories come from. And the trend seems to be catching on with older generations. "All age groups are concerned," declares Lily, "not just the young. This is a tendency that has been increasing for the last decade."
It is time for me to leave as Rankin is patiently waiting to take Lily's pictures for the campaign in support of Skydiamond. I walk out with a big smile on my face and renewed hope in my heart. When true influencers like Lily Cole and Rankin combine their efforts with a visionary like Dale Vince, they bring a ray of sunshine – or should I say of bling – to the future of our beloved but neglected planet.
Opening picture: Lily Cole photographed by Rankin
Read the full interview with Lily Cole, Dale Vince and Rankin in the summer issue of I-M Intelligent Magazine, on sale June 10th.