It's Monday lunchtime and Alice Temperley is dressed in a camouflage jacket with her long, wavy tresses tucked away under a hoodie and mud on her hands. She apologises for her appearance having just returned from riding Tiny, her anything but tiny Shire horse in the Somerset countryside near her home in Ilminster. "I had two hours free and thought I could go for a ride to think, to get inspired," Alice says. "Riding along I was thinking how lucky I am as I would never have been able to do this in London."
Temperley, who founded her eponymous fashion label in 2000, packed up her West London atelier and relocated in the early days of the pandemic back to Somerset where she grew up. Whilst standing in a queue at the chemist one day, she spotted a For Sale sign across the square, fixed to a former Victorian shirt factory built right in the heart of Ilminster. On gut instinct she rang the agent while still in the queue, and by the summer of 2020 she took ownership of the building.
In a labour of passion, she and her partner Mark Cresswell spent the next few months gutting and painting the place and that autumn, opened her new headquarters, the appropriately named Phoenix Studios rising from the ashes of its past. The multi-purpose building houses her atelier and archive, the Temperley London fashion boutique, a bridal shop, a heritage room selling expensive prototypes, amazing one-offs, and limited-edition pieces. There is a bakery-café and The Somerset, a bar serving delicious cocktails made from cider and cider brandy from her parents' cider farm at nearby Burrow Hill.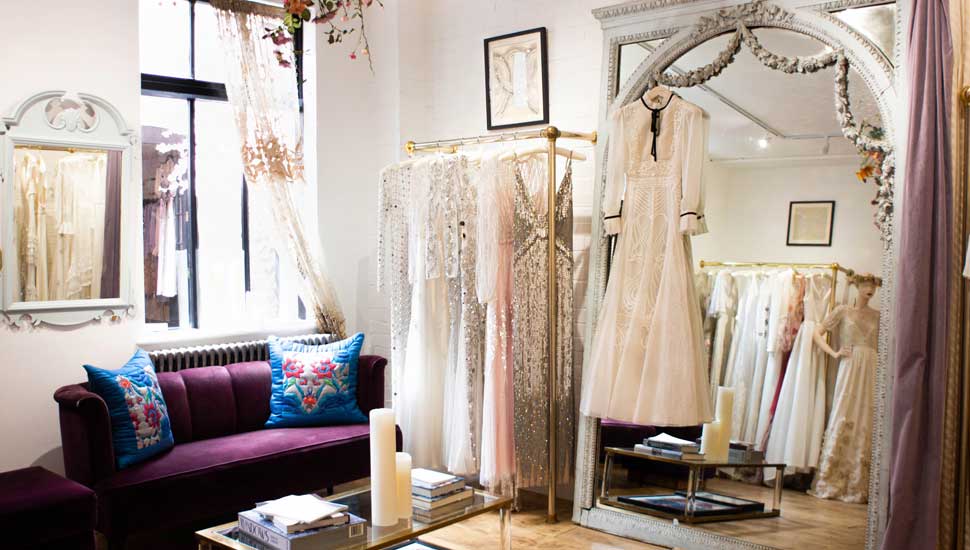 Temperley London boutique at Phoenix Studios.
In realising her dream in this picturesque Somerset town, Alice has added another reason to visit this part of the world along with The Newt hotel and Hauser & Wirth art gallery in Bruton and Babington House only a few miles away. "There is a sense of community here which is really nice because when we had our offices in Notting Hill there was no sense of centre or community," explains Alice, "now it feels like a family environment which is how I started my business in the first place. It feels less corporate and more creative, and people here are genuinely excited and happy to be part of this."
Relocating back to Somerset has also affected her design aesthetic. Over 20 years Alice Temperley has created a seductive arcadian world of dreamy beaded and printed dresses, patterned knits and dandy-ish tailoring that appealed originally to West London bohemians, Hollywood actresses, models, global nomads and then successfully expanded to an international network of stockists and Temperley devotees. Meanwhile brides were drawn to her magical vintage-inspired embroidered wedding dresses. They are the clothes that Alice wants to wear and her friends want to wear, effortless and feminine without being fussy.
As a designer Alice is unpretentious, she wears her label in a relaxed way, slightly scruffy around the edges, such as a beautiful maxi dress or cotton kimono coat and trousers perhaps teamed with a pair of battered boots, and her hair flying loose or tucked under a black hat. People are fascinated by her. Alice is her clothes, as a buyer once said: buying her clothes is buying a bit of her personality. Others have shared that viewpoint over the years, it is how Temperley has built a successful label.
1930s and 40s
inspired glamour
but seen through
a 1970s lens…

– Alice Temperley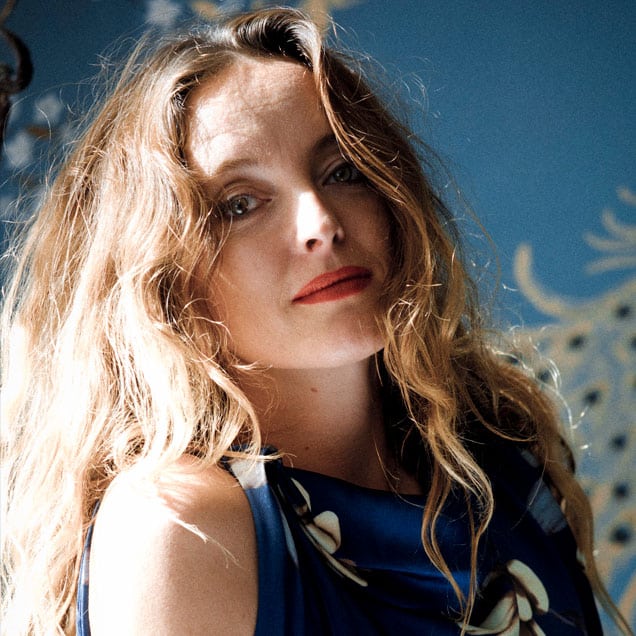 Her summer collection has the whiff of an Agatha Christie drama about it "1930s and 40s inspired glamour but seen through a 1970s lens," explains Alice. She has designed Art Deco and bird of paradise printed maxi dresses, trouser suits with palazzo pants, off-the-shoulder seersucker dresses finished with big straw picture hats and retro sunglasses. Think of Death on the Nile 1930s glamour and you get the picture, with an extra dash of decadence in the wrap jersey or silvery jacquard evening gowns.
The cotton dresses and the bold bird of paradise prints are proving particularly successful with retailers. "Escapist dresses are perfect summer pieces," explains Alice. "I loved the tailoring," she says of her linen safari suits and cropped palazzo pant suits, "but people are really buying into the dresses."
Temperley London's new autumn/winter 2022 collection which she unveiled recently at London Fashion Week is the first she has conceived and created entirely in Somerset. The aesthetic, "is definitely more me," she acknowledges. "It's called the Wild West, but it's the wild west country with my horse, Tiny, a heavy influence on the mood. The inspiration was the Wild West, the new frontier and escaping with my horse – but Somerset in there as well," she adds. She relates to the leather, the tailoring and knitwear and the way it has been pulled together and styled with 'country and western' overtones. The collection includes Mexican knitted ponchos and dresses along with leather chaps and James Dean biker jackets, her signature ultra-feminine dresses with cactus prints or rhinestones and some louche velvet pant suits.
It's a bit more playful, tailored and relaxed; rather more rock 'n' roll than lady…

– Alice Temperley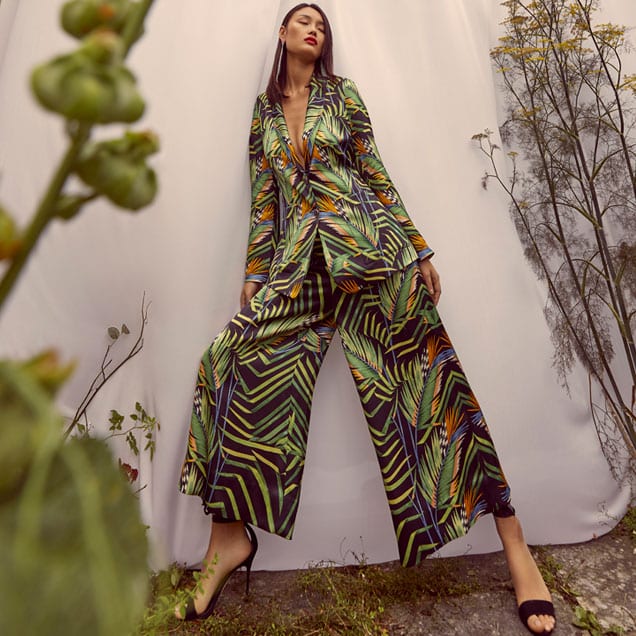 "I could never have done a collection like this out of the Notting Hill space and with the (former) store in Mayfair." The glamour and 1970s bohemian spin for which she is known is still at the heart of the design, but "it's a bit more playful, tailored and relaxed; rather more rock 'n' roll than lady." The style is a little more masculine than before but when there are feminine pieces, like the dresses, "then they are very feminine."
Now in her mid 40s, Alice with her brother Henry and sisters Mary and Matilda, grew up on the family farm in the Somerset Levels, running feral around the cider orchards, feisty children often getting up to no good. She was 17 when she left for New York with her portfolio under her arm and eventually returned to London to study fabric technology and print at Central Saint Martin's and then the Royal College of Art. During those years she designed beautiful one-off evening dresses for luxury boutiques like Fred Segal in Los Angeles followed by commissions for prints from brands like Bulgari and Valentino.
She debuted her Temperley London collection at London Fashion Week in 2000 with jacquard knits, vibrant prints, diaphanous dresses with hand-beading and embroideries that she has produced in India and timeless tailoring, all with a romantic, bohemian twist. This soon drew fans from Hollywood like Gwyneth Paltrow, Sarah Jessica Parker, Julia Roberts, singers Beyoncé and Florence Welch and friends like actress Emilia Fox, make-up entrepreneur Charlotte Tilbury and model-photographer Laura Bailey. The business expanded with a bridal range, swimwear and some lifestyle products for those wanting to buy into the world of Temperley.
Left: Alice Temperley Palazzo trouser suit. Right: The courtyard cafe at Phoenix Studios.
Moving to Somerset starts a new chapter in her business, a story that revolves around sustainability, authenticity, and heritage. She is enthusiastic about the number and variety of local craftsmen and businesses that she is working with such as the leather producer Pittards, for her handbags; robust quilted outerwear and rainproof coats with Fortis in Dorset, and flannels and tweeds from a company in Wincanton that also supplies Chanel. In nearby Chard there is a factory that makes tulle for haute couture clients that she hopes to collaborate with. She also has recently launched a bridal jewellery collaboration with London jeweller Annoushka Ducas.
Somerset is the birthplace of the brand and the place that breathes life, energy, and passion into her collections and if there is one positive outcome of the pandemic for Alice it is that she has returned to her roots. She is living her dream.
Words by Francesca Fearon