London based British designer Alexandra Llewellyn fell in love with backgammon as a child in Cairo. The rattle of dice on large wooden crate-boards signalled the game in play, as she strolled through the streets with her Egyptian step-grandfather. As she travelled more, her interest in backgammon evolved and she became enthralled by the idea that board games can bring all sorts of people together, since they require neither common language nor culture.
After years of studying and training, finally she opened her Design Studio in 2010, in which she creates backgammon boards and custom-made games tables and games, all made in the UK and all of which can be personalised or bespoke commissioned. Alexandra's designs are owned by clients such as Sir Richard Branson, Elle Macpherson, Jacquetta Wheeler, Mark Ronson, Paloma Faith… and even Royalty!
I-M: Alexandra, please tell us about your journey, which have been
the experiences and influences that have shape you as an artist?
A.Ll: I have made things all my life and have been lucky to have grown up with an appreciation
of beautiful things – my mother is a clothes designer and my father a garden designer. Both have amazing taste and we were always encouraged to look and to appreciate. In the same vein, we are a close family and games featured a lot when we were growing up. Backgammon was one of many games we played.
My grandmother was an artist with sketch books full of studies of mouths, noses and eyes, which fascinated us as children. Her pencil sketches are what first attracted me about making something from nothing, creating drawings from lines on a white page.
I-M: Were you one of those kids always building things?
Any cornerstone moments growing up?
A.Ll: As a child I collected a treasure trove of lost and found objects to make things with. My mother referred to it as my junk pile but to me it was better than any toy. I loved creating models with what others considered to be rubbish. Similarly, I loved to draw with charcoal I made in the fire, or make portraits out of my mother's lip liner.
At school, I lived in the art department, but also loved science. An amazing moment for me was when Terence Conran wanted to buy one of my paintings from my A-level show. Straight after school I went to art school where my practice became more conceptual, but the work was always about the act of making and also the viewer's interaction with art.
I-M: When did you start making game boards?
A.Ll: I started making backgammon boards, amongst many other things, when I left university. The first was a present for a friend's family for taking me on holiday. I then moved to Spain where I worked with a centre for adults with learning disabilities. I employed them to make the boxes, and I hand-painted the interiors. Each one was different and I took them all to London for a two-night sale – I sold nearly 30 in one go. The seed was sown. I moved back to the UK to work in product development with a London company, and it is there that I met many of the craftsmen and women and workshops I work with today. We did everything: table top, silver, fine jewellery, rugs and leather. It was a baptism of fire, and my plan to start my own design business began to take shape – working with master craftsmen and beautiful materials to create games that brought people together. The games also became vehicles with which I could use different techniques, designs and materials. I now use a lot of marquetry and printed and inlaid leather. I also hand paint and print pieces, use metals, and semiprecious stones and glass.
I-M: Why such a focus on backgammon?
A.Ll: My step-grandfather was Egyptian so as a child we visited Cairo often. I will always remember the thrill of playing with men 10 times my age with whom I shared no language, no culture and no references, but we still communicated through a game of backgammon, and there was a lot of laughter. That absolutely still feeds what I do. I love creating beautiful objects that are also games; they draw people in to play and talk and to be with each other. They are conversation pieces. My other great passion is cooking – for exactly the same reason, to bring people together, and to create a unifying shared experience.
We sometimes joke in the studio about creating world peace through backgammon – pitching two warring countries and sitting them down to get to know each other over a game of backgammon. Referring to games Plato said, "You can discover more about a person in an hour of play than in
a year of conversation". In the same way games allow people to communicate, and in these crazy times we live in, they create time -the greatest luxury of my generation.
When I began to make my backgammon boards I never dreamt of where they would take me. I really love to travel and find much inspiration in meeting people from all over the world. My work has taken me to places like Afghanistan, where we worked with incredible craftsmen and women developing a design for the charity Turquoise Mountain.
Recently, Jumby Bay Island flew me to their Caribbean paradise to find inspiration to design for them games tables and backgammon boards. Once I got there, I realised why they did; it was such a special place that I would have never otherwise understood. Oh! And I learnt about the incredible African game Wari. More recently I was in Las Vegas launching my new Poker set…I am still digesting my time there.
I-M: Is your mindset very different when you are creating one
of your collections from when you are working on a bespoke project?
A.Ll: My love of my work has turned into more than just making games, and through my bespoke commissions I have learnt that I love creating truly unique pieces and more specifically, gifts that are imbued with thoughtfulness and love, and tell a story. The kick for me is not just the process of making and designing, it is also the thought of my clients giving my designs as presents once they are made. Imagine receiving something that your friend or loved one has put so much thought, time and care into.
I have 12 signature designs that I repeat and sell through our website and in Harrods and The Conran Shop. We sell backgammon boards all over the world but my biggest market is America. Over half of the work I do is now bespoke. One of the most amazing commissions I have done was for a 50th wedding anniversary – I was sent 50 years worth of love letters to interpret into a backgammon board. We inlaid marquetry postage stamps from where the letters had been sent to, rendered lines of the letters in marquetry on the board, and created a secret playing piece that unscrewed revealing a lipstick kiss from one of the letters.
I still get goose-bumps thinking about it. Many of the boards I do contain visual biographies of the client's life. It is such an honour to be able to delve into so many parts of the world and so many different experiences with every design. Another amazing commission was to commemorate the client discovering of a mutation in a protein that caused terminal illness in children, for which his wife had amazingly found a cure! They were an extraordinary couple.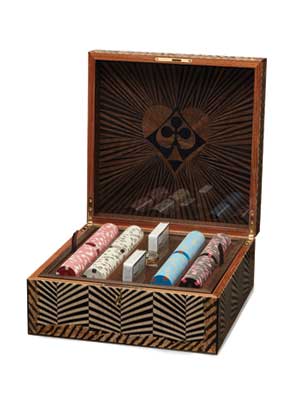 I-M: What have been your most recent projects?
A.Ll: I recently launched a backgammon board with never before seen photographs of Marilyn Monroe – I was approached by the photographer's estate, which is a huge honour. A few months ago, I made my first poker box – which I created as a limited edition, and of which we are already making bespoke versions. It's another great game that brings family and friends together but with the added dimension of bluffing and deception.
I'm really proud of my circular backgammon and chess table. I had a Eureka moment when I realised that actually backgammon is a circular game, but for thousands of years it has been played on a square board. It takes just a couple of games to get your head around it, and then it is far more logical than playing the traditional square version.
I-M: Where is Alexandra Llewellyn going next?
A.Ll: Re-launching our website is taking a lot of effort and time, but we really want to tell our story properly, so this is a priority. At the same time, I want to continue telling people's stories through games and furniture unique to the client. Actually, I am working on a new series of leather travel games and I am starting to make other pieces of furniture such as architectural inspired tables, and pieces that involve highly detailed marquetry with more contemporary imagery. In the same vein I would like to start making treasure boxes that tell the story of the contents – whether it be a beautiful artefact, or simply a paint pigment. The box tells the story of its contents, but it all is also an experience to open and explore.