Aged just 27, Alejandro Galán "Ale" is the indisputable king of padel, the Mexican racket sport. Padel, the fastest-growing sport in the world, has been in his life since infancy. His sister Alba played on the World Padel Tour as a child, so the whole family would spend most weekends at tournaments. As soon as a racket was put in his hands at the tender age of six, Ale realised he could be pretty good at it. The rest, as they say, is history.
Within a couple of years, Ale was playing in the Spanish national youth circuit, where he met his current partner, Juan Lebrón. "We both were among the very first kids taking up padel in Spain, so we met at lots of tournaments," he explains, "but it wasn't until 2020 that we became playing partners."
It was obvious early on that Ale had a natural talent for padel. Coming from a modest family meant that he didn't have access to the many hours of tuition and practice enjoyed by other players. But despite training for only one hour a week, it was soon clear to anyone watching he was destined to become a champion.
Ale started to play padel at the age of six and, within two years, was playing in the Spanish national youth circuit.  
A natural athlete he could well have made the grade in another sport. He was good at football and basketball, but as his family didn't have many resources and the fact that his sister had chosen padel meant that this was the only sporting path open to him. And he was happy to follow it. "I adored padel from the beginning," he explains, "but as a child, if it had been up to me, I would have loved to play all the sports!"
As the years went by and he developed physically, so he climbed the players' ranking and trophies started to accumulate on the shelves of his family home in Leganés, Madrid. At the age of 16, he earned a sport scholarship, which allowed him to train regularly. Ale Galán was unstoppable. As soon as he turned 18, he joined the professional circuit.
At the age of just 27, Ale Galán is number one in the World Padel Tour ranking.
Talent alone, however, is not enough to achieve Ale's level of success. It also required hard work and sacrifices. The arduous training meant that Ale missed a lot of the fun "normal" teenagers have. "I was the weird one," he shares, "I'd often miss school on a Friday because I'd be travelling to a tournament and I missed many a party and a field trip." Although he doesn't regret his choice, there is a tinge of sadness in his voice. It is testament to his commitment that he chose the tough road, the one of sacrifice and discipline. "I found myself on occasion regretting not spending enough time with my friends, especially when they recounted a particularly funny anecdote, but I had a clear goal and I was ready to go all the way."
In 2018 he was paired with Lebrón for the World Championship, which paved the way for them to become partners in 2020. It's a court relationship that's blossomed – they are currently ranked first in the world. The second pair in the ranking, Sanyo Gutiérrez and Fernando Belasteguín, lag well behind in terms of points. "We had great success last year, but every season is new and nothing can be taken for granted," Ale says modestly.
As if keeping his position as number one wasn't enough, Ale found time to start the Professional Padel Players Association (PPA) in 2020 – of which he is chairman – to look after the interest of the players and promote the expansion of the sport at a global level. As well as being the fastest-growing sport in the world, in Spain, it is the second most popular sport after soccer, and in Sweden it is already played by more than 5 per cent of the population. "The dream is to become an Olympic sport," he shares. "For that purpose, we have joined efforts with the International Federation of Padel [FIP]."
Ale and Juan, proud winners of the Italian Championship in 2022.
Ale's meteoric career has earned him a role as brand ambassador for the Swiss luxury watchmaker Hublot, which is known for its use of innovative materials and avant-garde designs. For a kid that came from a modest neighbourhood in Madrid, this was a sign that his star is the brightest in the padel sky. He smiles, "Not even in my wildest dreams I would have imagined I'd become number one in the world, let alone have a global luxury brand like Hublot choosing me as their ambassador, with what it means not just for me but for the sport too."
Ale wears an Hublot on his wrist on and off the court. "I love wearing it," he says, taking a glimpse at his wrist, where an Hublot Big Bang rests. "I have several and they are all super comfortable and light. I wear them for everything, training, playing and off the court." He shares a scary anecdote with me that is testament to how tough Hublot watches are. "Once I almost had a heart attack when, chasing a point, I ran onto the glass wall and hit it first with my wrist… with an Hublot on it." The watch didn't even suffer a scratch.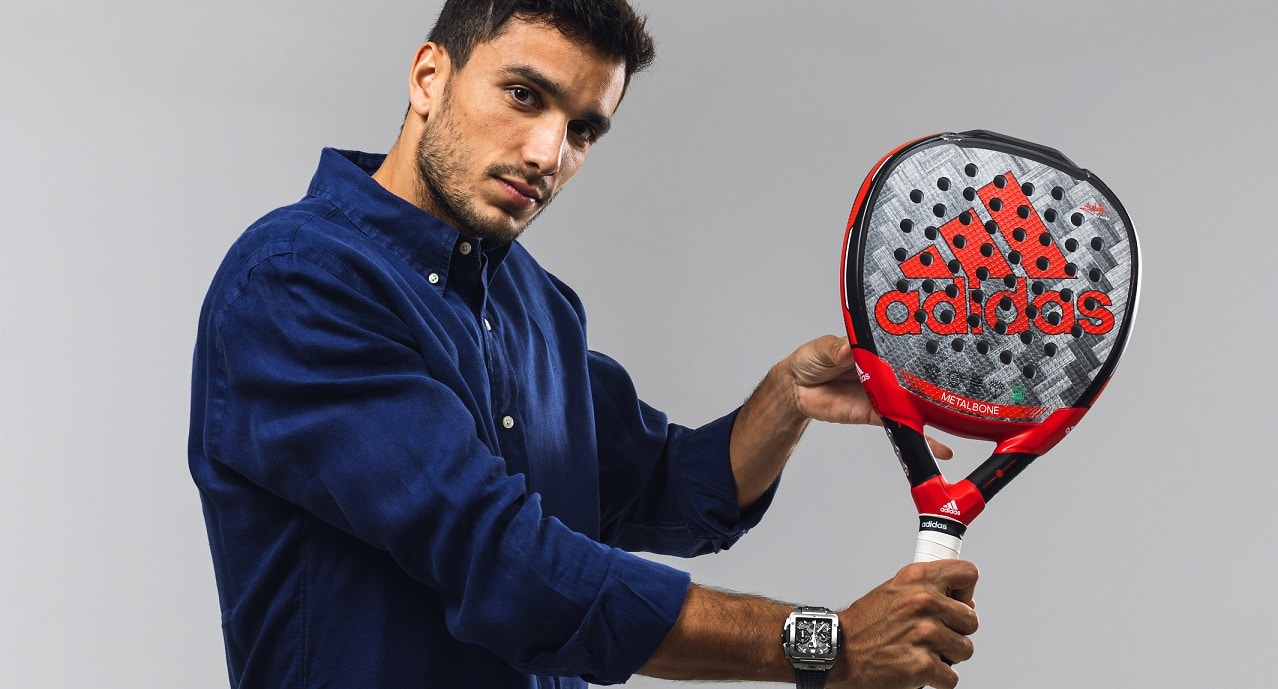 Hublot continues to expand its horizons in the world of sport by welcoming Ale Galán as an ambassador of the brand.
Ale hopes that the leadership that Hublot is showing by sponsoring him will help other brands to support the sport and, in turn, take it to new levels of growth and popularity. His passion for padel shows in everything he says and does. As someone who plays it a little, I must say that it is a great game to bring friends together (you need four players), it's less physically demanding than tennis and incredible fun. Alex concurs, "Padel is a very versatile game. Even if the four players have different levels, all of them can have fun. Strength is not a key factor and from the very beginning you can enjoy playing it."
The sport is growing very fast in the UK, with an estimated 90,000 people playing regularly and 250 courts nationwide – a figure expected to grow to 400 this year. "We are very much looking forward to playing in the UK," Ale comments. "There was a tournament organised two years ago but due to Covid it got cancelled, so we are very eager to go back." This eagerness is driven by Ale's ambition to see padel become a truly global sport. When I ask him what he wants for himself in the future, he smiles and replies, "I will be happy staying where I am right now…" I can't help but laugh with him. Of course he would say that. He is number one, the undisputed king of international padel.
Hublot watches featured in this article:
Big Bang Original Steel Blue (opening picture); Hublot Big Bang Único Black Magic (second image); and Hublot Square Bang Unico in titanium (picture with Adidas racket).