From the very beginning, Swiss watchmaker Rado focused on materials and design. Following the motto of its founders, the Schlup brothers: "If we can imagine it, we can make it. And if we can make it, we will", the brand soon established itself as a sort of maverick in an industry that at the time looked more to its past than to the future. Rado took a very different approach, that of science and technology. So when they presented their first DiaStar at the 1962 watch fair in Basel, the world just went: "Wow!" Technically it was the first ever scratch-proof watch and aesthetically, its futuristic design with its signature oval shape broke the rules of what a beautiful watch should look like.
The launch of DiaStar in 1962 confirmed Rado's reputation as visionaries in the world of horology.
The same year a ladies version was launched. Ever since, the DiaStar evolved with the times, always remaining at the forefront of innovation in materials and design. Key years in the history of the watch are 1967, when a day-date was introduced, 1976, which saw the release of a Quartz-LED model and 2007, with the release of a chronograph rattrapante.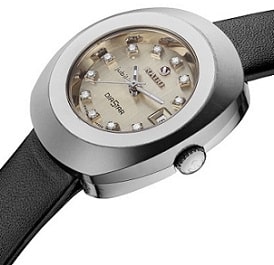 Left to right: The first DiaStar ladies (1962), DiaStar Quartz-LED (1976) and DiaStar Chronograph Rattrapante (2007)
Fast forward to 2022 and the DiaStar Original is celebrating its 60th anniversary with a special edition made of CeramosTM, a unique high-tech mixture of ceramic and metal alloy developed by Rado in 2011. Because of this unique combination, CeramosTM offers the lightness and scratch resistance of high-tech ceramic along with the luster of metal. The watch has been created in collaboration with the Swiss Argentinian designer Alfredo Häberli, internationally renowned for his work in companies like BMW, Camper and Georg Jensen, and for the acclaimed 25hours Hotel Zurich West, where he was responsible for the overall interior decoration and for which he designed more than 60 products. He's been fascinated by watches since he was 18, becoming an avid collector of pieces from the 1960s and 1970s. In his own words, designing a watch was his "never-ending dream."
The DiaStar Original 60-Year Anniversary Edition has a hexagon facetted sapphire crystal anti-reflective case, a satin-brushed stainless steel Milanese bracelet and a textile grey strap (£1,770).
The idea was to preserve the soul and heritage of the original DiaStar and at the same time provide it with the best and latest innovations. "There's been a minor geometric adaptation of the case to make it look more elegant and lighter," explains Häberli, "the facetted cut of the watch glass was reinterpreted in a hexagonal form meant to highlight the 60th anniversary."
The new 38mm DiaStar Original is framed by an ultra-shiny Ceramos™ coiffe with polished angles and boasts a parallel-stripe-faceted sapphire crystal.
The bezel is made of CeramosTM radial brushed on the conical part, with polished angles and detailing set over a matching, monochrome stainless steel case. The movement is their in-house Rado R764 automatic with 80 hours of power reserve. The watch is available in both an Anniversary Edition, which comes with a satin-brushed stainless steel Milanese bracelet, along with changeable sleek textile grey strap; as well as a standard DiaStar Original model with a parallel-stripe faceted sapphire crystal, three-row stainless steel bracelet and a range of three colours: blue, green and grey (all of them retail at £1,320).