The Four Seasons Mayfair. Until 31st December
I am never happier than strolling down Burlington Arcade, as it has many of my favourite shops in London. To celebrate their 200-year anniversary the world's renown shopping arcade teamed up with the Four Seasons Hotel in Mayfair for a very special afternoon tea.
The Burlington Afternoon Tea is designed to mirror the luxurious visual experience of strolling through the arcade past the jewellery, watch, fragrance, fashion and beauty boutiques. In the elegant surroundings of the Amaranto Lounge at the Four Seasons Park Lane, one feels pampered and utterly spoilt, even more so if like me, you have the chance to speak to the chef behind this sumptuous tea, Oliver David, who talked me through each and everyone of his stunning crafted tea time delights.
The Burlington Beadle cake represents the world's smallest police force, modelled on Head Beadle Mark Lord. This light blueberry cheesecake is made with vanilla, sable Breton and blueberry compote. The Velvet Hat plays homage to Victorian fashion and shopping traditions at The Arcade including top hat shopping. White chocolate covered Joconde sponge, raspberry jam and rich vanilla mascarpone cream create a modern take on the traditional Victoria sponge.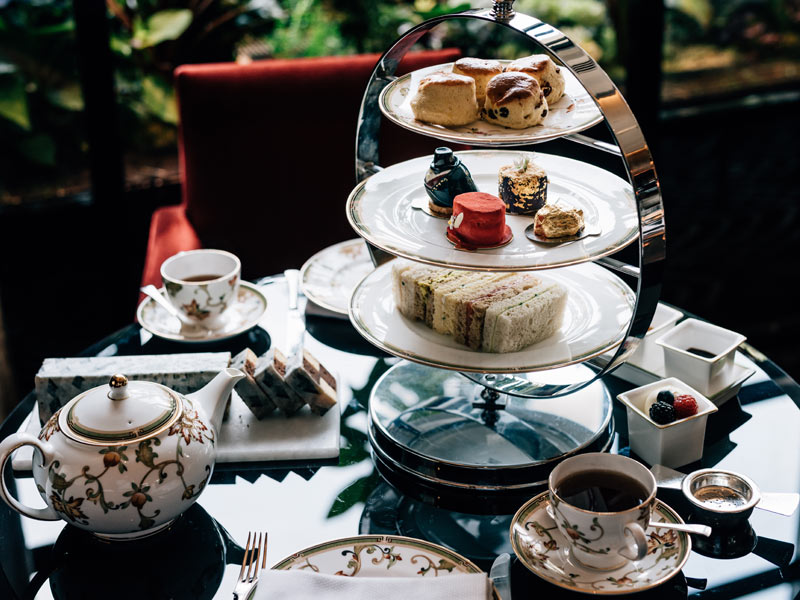 The Joss Flower plays is inspired by the limited-edition fragrance created to celebrate The Burlington Arcade's 200th Anniversary by Atkinson 1799. Layered peach and jasmine jelly, pink pepper cream, soft almond sponge, vanilla and gardenia mousse, make up this aromatic cake; all infused with notes from the bespoke fragrance, and topped with a delicate sugar Joss Flower.
The Burlington Battenberg reflects the iconic marble floor of The Burlington Arcade. This Victorian classic sliced chocolate and bergamot cake is wrapped with the Arcade's statement geometric pattern. Last of these sweet wonders is the Gold Nugget, inspired by the intricate gold windows of the Arcade's Piccadilly entrance, with 24ct gold covered nugget featuring a passion fruit and angostura bitter caramel, praline crostillant, with 70% Trinidadian chocolate and rum whipped ganache.
My silver needle tea came served in delicate green and gold china, as did the delicate sandwiches and the delightfully naughty hand-crafted cakes I just told you about, all of which I complemented with a glass of fine champagne.