Off-road driving is one of my favourite things in the world. I love the excitement, the sense of adventure and freedom that driving across wild terrain in a good 4×4 gives you.
If you mix those adrenaline fuelled days with relaxed ones pottering around an 18-hole golf course in a luxury resort, like the Fairmont Royal Palm in Marrakech, I'd say you got yourself a pretty amazing holiday. One of the most evocative places in the world, Marrakech has nearly a thousand years of history. Known as The Red City thanks to its thick surrounding wall, which dates back to the Berber Empire, Marrakech has always been a cultural melting pot, and became a popular tourist destination in the 1960s, ever since attracting everyone from the Beatles to David Beckham.
It's a place to engage the senses, nowhere more so than in its famous souks. These vibrant markets are a whirlwind of colour and noise, where thousands of people weave between tightly packed stalls exhibiting piles of bright and pungent spices, richly woven rugs, and a thousand other exotic goods. The clamour of voices haggling and the cries of vendors competing for customers provide a constant backing track to the city.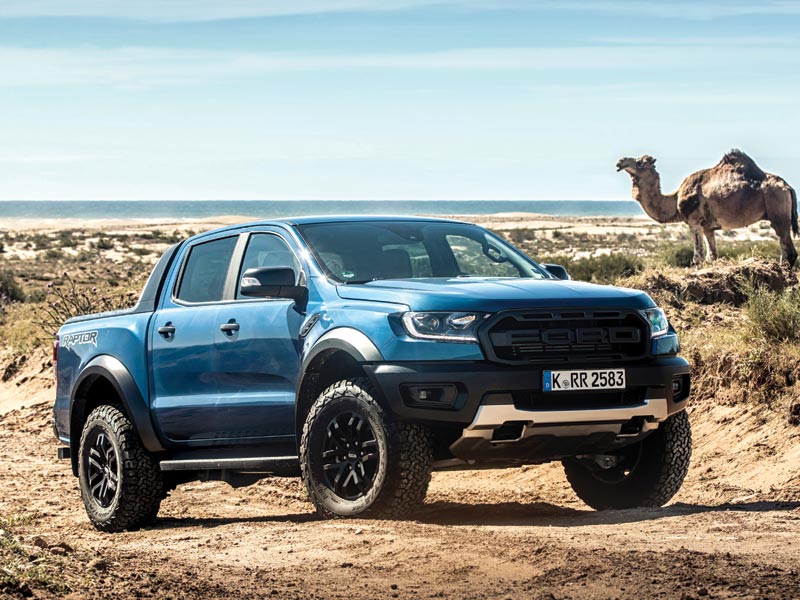 For this reason, we chose to stay at the Fairmont Royal Palm Hotel, which is nestled in a natural landscape of palm, olive and orange trees. This is an idyllic retreat offering stunning views of the Atlas Mountains, just 20 minutes away from the bustling and hassling of Marrakech. Tired from the flight, we enjoyed a slow and lazy lunch at L'Olivier, a lovely, casual restaurant by the turquoise blue pool, with wicker chairs and bright white table clothes, where we enjoyed an array of delicious Mediterranean dishes, among them sardines from Essaouira with Charmoula sauce and Tchakchouka peppers, grilled vegetables dressed with olive oil from the resort itself, and Royale sea bream ceviche, with fresh tomato and lime.
We then went to visit Jardin Majorelle, a two and half acre botanical garden created by the French Orientalist artist, Jacques Majorelle, over almost forty years, starting in 1923, and features a Cubist villa designed by the French architect, Paul Sinoir in the 1930s. In the 1980s, the property was purchased by Yves Saint-Laurent and Pierre Bergé, who restored it beautifully. The villa houses the Islamic Art Museum of Marrakech, the Berber Museum and has recently opened the Yves Saint Laurent Museum. The place is gorgeous but it is rammed with tourists so I'd recommend you go early in the morning to avoid the queues in the blazing sun.
The Medina is spectacular, designated a UNESCO World Heritage Centre, it's a wonderful mix of Amazigh, Arabic and Moorish architecture. The Bahia Palace is a good example, with its enchanting rooms, mosaic ceilings and ornate stone carvings. The palace is richly decorated throughout; the multi-coloured tiles, green ceramic roofs, bright yellow and blue arches, and courtyard gardens full of jasmine and cypress trees are a photographer's dream.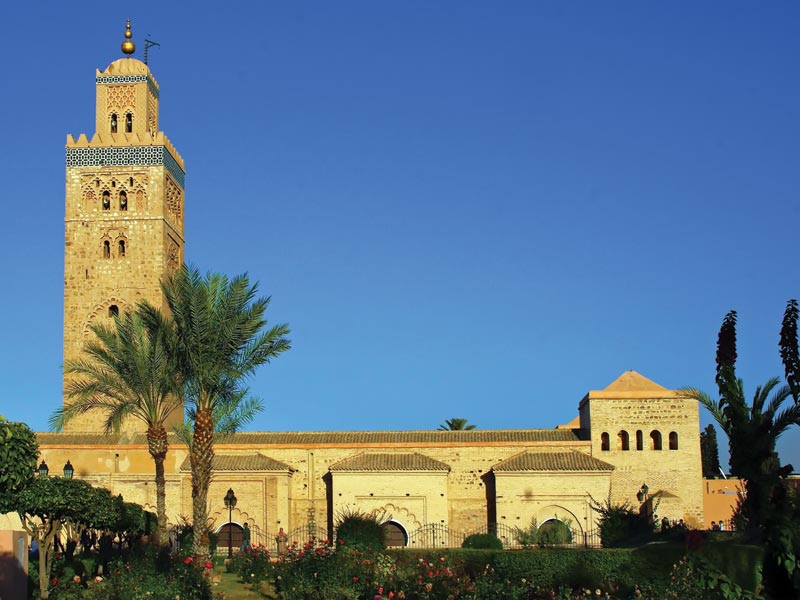 Another stunning building is Ben Youssef Medersa, with its baroque designs and brightly coloured zellij tiles and wood carvings. The landmark of the city is Koutoubia Mosque, with its tiled minaret visible from miles around. The mosque is surrounded by gorgeous gardens with roses, orange trees, and palms. Unfortunately non-muslims are not allowed inside, but it's still worth a visit, especially when the enchanting call for prayer rings out over the city. In the heart of the medina is Djemaa El Fna, the main square of Marrakech, a plethora of activity from dawn until late in the evening. There, we found fire-eaters, cross-dressing belly dancers, Amazigh acrobats… even astrologers! Exhausted from all the walking around, we went for dinner to La Medina Privilege Restaurant, an enchanting place with traditional Moroccan food, live music and great atmosphere. It is a bit tucked away so it is not the easiest to find, but I believe it is definitely worth the effort.
Back in the hotel, a last drink on the terrace of our room, looking at a star studded sky, put an end to a most exciting day. My partner is very fond of golf, but unfortunately I am not. So, knowing that the Fairmont Royal Palm has a magnificent 18-hole golf course, and that I wouldn't therefore see him for most of the day, I had in advance prepared a bit of fun for myself and a couple of friends, in the form of some serious off-road driving in the new Ford Ranger Raptor. With that purpose, very early in the morning, we drove to Essaouira, formerly known as Mogador, situated on the Atlantic Coast, just over an hour from Marrakech. The city is rich in history and culture and its Medina is also classified as a UNESCO World Heritage Site, including the 18th century seafront ramparts and fishing harbour.
It is the Alizée coastal wind, which has been instrumental in Essaouira retaining its traditional culture and character. For most of the year, the wind blows so hard that it is impossible to stay on the beach, so most of the tourists bypass the town, on their way to other, less breezy destinations in summer. Known as the Wind City of Africa, Essaouira attracts a huge number of windsurfers between April and November, but the majority of visitors come here in spring and autumn to wander through the spice-scented narrow streets and palm-lined avenues of the fortified medina, browse the many art galleries and boutiques, relax in some of the country's best hotels and watch the fishermen and their wives mending nets and building traditional boats in its wonderfully atmospheric harbour.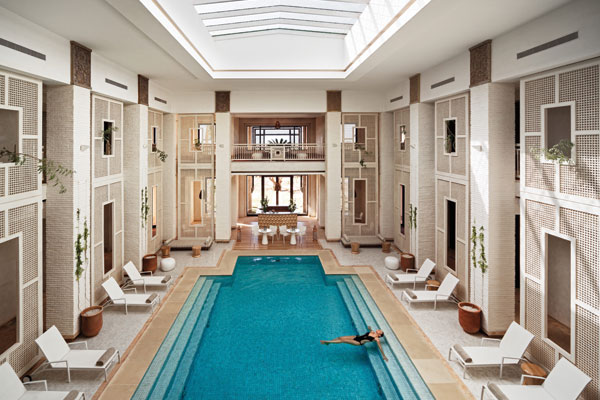 It was a breezy day indeed, so we hardly found any other vehicles in our way to the beach. Despite being a total beast, the Raptor has an elegant and sophisticated interior, with leather and suede bolstered seats, which are particularly comfy thanks to their dual-firmness cushions and come with 8-way power adjustment and heated, leather-wrapped steering-wheel, chrome door-handles, blue stitching and other leather accents featuring throughout. Add to this an ultra-strong chassis, bespoke suspension, and 6 different driving modes to adapt to whichever surface you are driving on, and the result is an incredibly easy car to drive, exciting, fast, and surprisingly comfortable.
The Raptor offers 30% more suspension travel thanks to its new FOX shock absorbers, offering huge breadth of ability both on and off-road. We switched off the Traction Control System (TCS), the Electronic Stability Control (ESC) and used the ROCK driving mode to help us over some serious rocky terrain. By the time we got to the beach we were really hungry for a bit of speed, so we changed to BAJA driving mode, especially designed for high-speed off-road performance (like in the Baja Desert Rally), put our foot down and flew down the beach, zig-zagging and drawing donuts on the sand.
We took a break and went for lunch to Heure Bleue Palais, in the Medina of Essaouira. This five star hotel boasts a panoramic roof terrace that offers a swimming pool and a breathtaking view of the old city at sunset. We ate in the courtyard, among elegant palms and other luscious plants. We shared a few dishes, my favourite being the Spider crab with Cauliflower taboulé and rémoulade sauce, and the marinated and steamed octopus with chakchouka, sweet peppers and spicy Argan oil. Back on the beach, it was time for some serious driving over gigantic dunes. We turned the MUD/SAND mode and ESC on for optimum traction and momentum over the deep sand and, oh boy! Did we fly over those dunes! It was a truly exhilarating experience. It was really with a heavy heart that we drove back to Marrakech.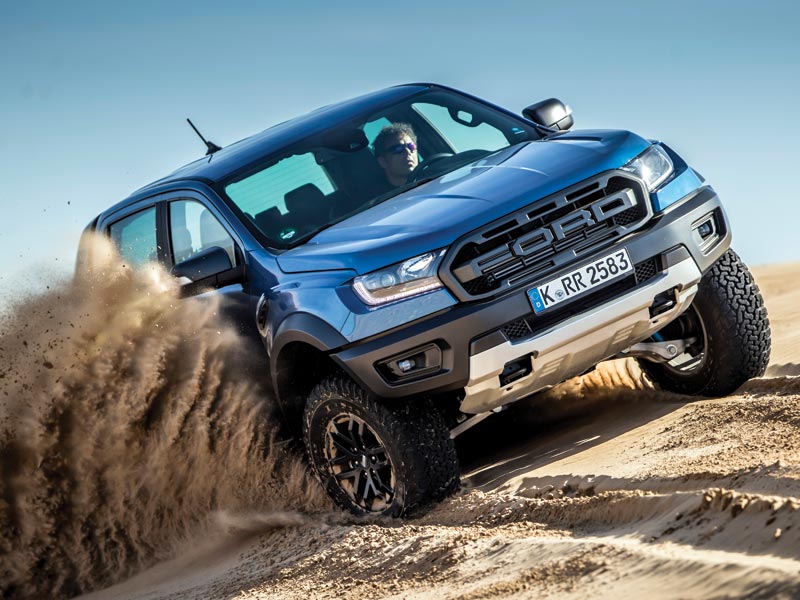 On the way to Essaouira, we had been chatting all the time, so it was only now that I realised how quiet the cabin of the Raptor is, and how smooth it feels on the road, which wasn't exactly the M4. If you are thinking of driving in Morocco, be ready to share the road with camels, donkeys, carts, and every other ancient mean of transport you can think of, plus cars and motorbikes. I was very grateful for all the tech in the Raptor: pre-collision assist (including forward collision warning and automatic emergency braking), cruise control, intelligent speed assistance and speed sign recognition, which is most useful, since being stopped for speeding in Morocco means a hefty fine.
By the time my friends dropped me back at the Fairmont Royal Palm I was pretty tired so I made a bee line for the spa, to enjoy a full body massage with Argan oil. Designed like a modern Riad, Le Spa at Fairmont Royal Palm Marrakech feels like an abode of peace. The wamth of the sun, the striking greenery, the fine incense of rose and orange blossom and the sweet breeze in the garden transport you to a paradise of relaxation and tranquility.
As it was our last evening in Morocco, we treated ourselves to dinner at Le Caravane, another of the restaurants at the Fairmont Royal Palm Hotel. This charming eatery offers an exclusive gourmet getaway with a menu full of inventive creations prepared with fresh and seasonal products. The restaurant offers a variety of settings to suit every preference, including table d'hôte, convivial room, private lounges hidden from view by Mashrabiya panels, or the Captain's Table with a dedicated fireplace.
The wine cellar is a highlight of the restaurant, sitting majestically in the centre of the dining area, it offers the promise of delicate wines to pair with a lamb rubbed with garlic and marinated with fresh herb oil or a confit duck foie gras terrine. I was particularly delighted with my seafood choice, the trio of salmon, in gravlax-style, marinated and smoked with pickles of vegetables and tangy cream, it was full of flavour and at the same time, delicate and sophisticated.
As we left for the airport early in the morning, I realised that this would not be the last time I'd visit this colourful and welcoming country.
Ford Ranger Raptor from £39,895 +VAT