As someone said once, "No winter is ever too cold if you have enough love." That's exactly the feeling we wanted to reflect with this story. As the Christmas holiday is now a faint memory, we all may need a bit of inspiration to carry us through the last weeks of winter. With St Valentine's around the corner, we thought a wedding tale would be just the right thing. In fact, the romantic day seems to be four times more popular for weddings than any other day.
We had the privilege to be invited to the wedding of two of our loyal readers and immortalise their special day in our website. I joined the bride at their house in Knightsbridge, as she was preparing with the help of one of her best friends, Cristina Villarreal Fraile, co-founder of the bespoke fashion brand, Fraile. Cristina designed the dress especially for the bride, who looked goddess-like in white natural silk satin. The gown was trimmed with crystals all along the backline and the cuffs were embellished with 1930s embroidery appliqué (belonging to the groom's family).
Detail of the crystal trimming and the 1930s appliqué in the dress designed by Cristina Valladolid Fraile.
The 12.5cm high stiletto Dahl pumps by Jimmy Choo accentuated the bride's slender legs. Made of patent leather and detailed with crystal-embellished stars, they were finished with a thin strap that elegantly winds around the ankle.
Jimmy Choo Dahl 125 patent leather pumps, £750
Available at Jimmy Choo, Harrods and Farfetch.com
Such a glamorous bride deserved the most glamorous car… so what else but an arctic white Rolls-Royce New Ghost to drive her to Chelsea Old Townhall, where the ceremony took place? New Ghost's distinctive minimalist design is accentuated by various features that have been rubbed out, except for the Spirit of Ecstasy which now gracefully emerges through the car bonnet instead of sitting atop the grill.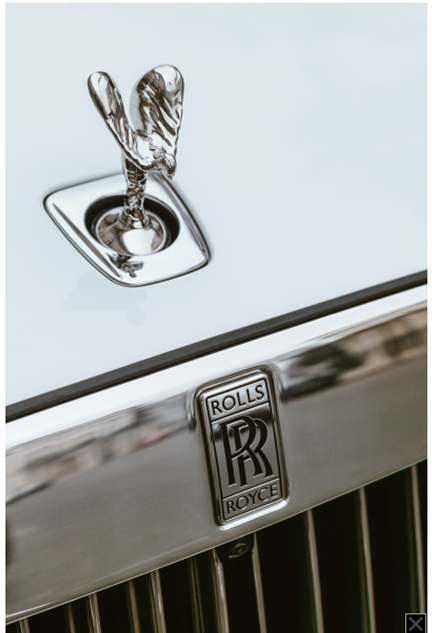 The Spirit of Ecstasy has graced the prow of Rolls-Royce motor cars since 1911. Today, she remains one of the world's most famous symbols of luxury.
A single, sculpted line extends from the front to the back, creating a continuous silhouette and a fluid flow from the roof to the trunk. The grill is slightly smaller, made of polished stainless steel and subtly illuminated.
Elegant and flawlessly design, Rolls-Royce New Ghost is the car any bride would dream of for her wedding day.
Rolls-Royce Ghost offers more legroom than any other four-seat sedan except for Phantom. The combination of Arctic White leather and Obsidian Ayous wood finish on hard surfaces is incredibly elegant. The rear cabin is further enhanced with a Champagne fridge and the inside room resembles a starry sky at night. What could be more romantic?
Technology is not amiss in New Ghost… just invisible, not to disturb the serenity of the overall design. From an air purification system to laser lights, 360° cameras, active cruise control and an astounding proprietary sound system, this car has all the advances the automotive industry has come up with so far.
In the cabin of New Ghost, the Obsydian Ayous wood finish is inspired by the colours of igneous rocks and beautifully combines with the Arctic White leather.
Going back to the subject of weddings and St Valentine's Day… St. Valentine was a priest during third century Rome. At the time, Emperor Claudius decided to outlaw marriage for young men because he thought they'd make better soldiers if they had nobody waiting for them back at home. Valentine defied Claudius and continued to perform marriages, saying that it was God's will to have young people fall in love and commit to each other with the holy vows of marriage. When Claudius discovered what Valentine had been up to, he ordered his execution, which took place on February 14th.
Watching someone walking down the aisle has always filled me with emotion and this time was no different, especially because I have seen many friends getting married here, at Chelsea Old Town Hall. I can say without any doubt that there was not a single dry eye in the room when groom and bride said, "I do." An explosion of cheers followed as the newly wedded came out of the famous address in the King's Road which became the main Kensington and Chelsea Register Office in 1965 and subsequently hosted several famous weddings, including the marriage of Judy Garland to Mickey Deans in March 1969.
Many celebrities have chosen to wed at Chelsea Old Town Hall, among them Judy Garland, Pierce Brosnan, Richard Burton and Hugh Grant.
The roof of the rear cabin of Rolls-Royce New Ghost is hauntingly beautiful evoking a starry sky at night.
Flowers: Amora Flowers @amora_flowers
Groom: suit and tie by Hackett, loafers by Weejun.