Chosen as the location for The Italian Job and the release of The Beatles' first album, the Royal Lancaster London is one of those hotels which may deceive you with their exterior appearance – tall run-of-the-mill building from the mid 20th century, but offers the most incredible views across West London and holds a treasured reputation for their service.
It is hard to argue that the restrictions imposed around COVID-19 have hit the hospitality sector harder than most. However, although business is not-quite-as usual, it is still possible to travel for essential work. Some hotels, like the Royal Lancaster, remain open and have come up with ingenious ideas to suit any business requirements during these complicated times.
Spread across 18 floors, with 411 rooms, guests can expect exquisite facilities, impeccable service and some of London's most impressive suites, modern, yet warm and welcoming. Mine occupied a corner of the 14th floor with a view that made my jaw drop to the floor. From the living room, the large expanse of Hyde Park lay before my eyes and beyond, all West London.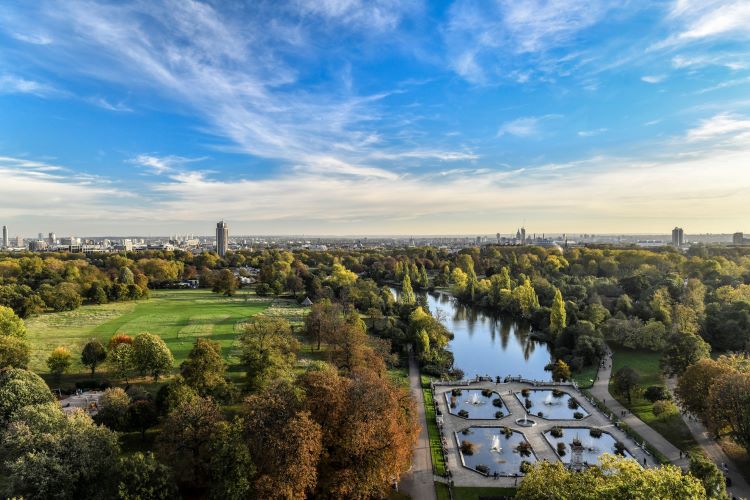 There are many perks to working from home, but sometimes you need a change of scenery and I can hardly think of a more inspiring "away from home" home office. Equipped with all the facilities you may expect in a 5 star suite (complimentary WifFi, multiple USB sockets, large TV you can connect to your laptop…) it is really easy to settle in and get a lot done. With so much space, social distancing is painless to maintain if you have to work with colleagues or host a meeting. All suites have tables and chairs to seat four plus lounge areas with soft furnishings and a single desk and chair. The 83sqm Royal Suite boasts a table for six and enough leaving space to organise a horse race. I realise I keep going on about the views, but whoever you are hosting will be definitely impressed and inspired.
Once your working hours are over, I'd strongly recommend you indulge in a long bath with a glass of champagne while you watch the sun slowly disappear behind London's skyline.
Although the blinds in all the rooms close completely, I'd suggest to the larks among you to leave them open and let the first light of dawn wake you up in time to enjoy the sunrise from the comfort of your bed. It is truly something to behold and an experience I will not easily forget. If only for this reason, I can't wait to go back to the Royal Lancaster.
Rooms are available to book daily from 8 am to 6 pm and include complimentary onsite car parking in case you prefer to avoid public transport. Daily rates start at £120 (£229 including overnight) for Classic or Deluxe rooms and at £350 for suites (half day) or £600 for a full day including tea, coffee and water. Food & drink can be ordered via in-room dining (breakfast from 8 am-10 am and dinner from 6 pm-9 pm) as currently restaurants and bars are closed.
If you love breakfast in bed, you won't be disappointed.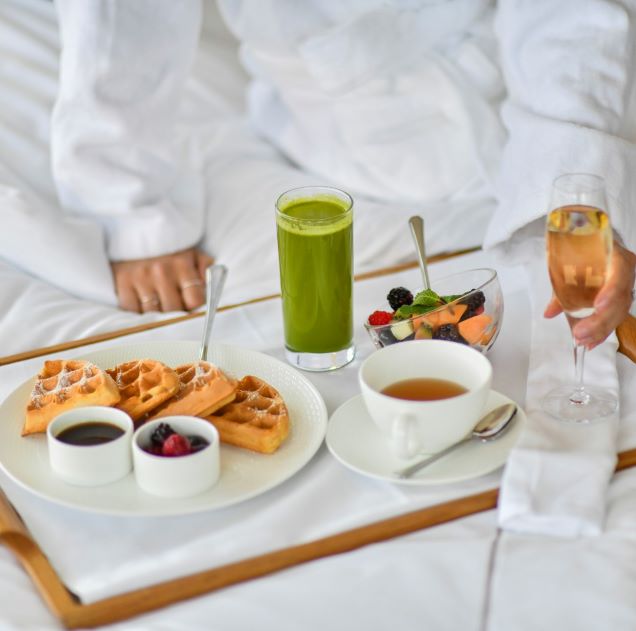 For even larger groups of people (up to 30), the Royal Lancaster offers its Forest Suites, designed to accommodate presentations and meetings and equipped with sophisticated lighting and advanced technology. Whether 2 or 30 people, a variety of sizes means social distancing can be easily implemented. Costs are tailored to your needs and demands.
Virtual, Live & Hybrid Events can be hosted a the Royal Lancaster's XR SmartStudio, on a 20sqm Extended Reality stage, with audio, broadcast cameras and TV-ready lighting allowing both a live audience and virtual attendees. These new facilities are the pride and joy of General Manager Sally Beck, who commented, "We're delighted to work with our partners, Smart AV, in order to bring this concept to life, and we have made our beautiful Westbourne Suite available immediately so that clients can take advantage of the facility and make their event happen in the new reality. As we navigate through these difficult times, certainly for businesses, we see this as a perfect partnership that will allow great events to still take place, and support our industry."
Lancaster Terrace. Bayswater. London. W2 2TY.