If Cinderella had been born in this age, she would have probably arrived at the palace in a Mercedes S 500 4MATIC like the one I had the pleasure to be driven around in a couple of weeks ago, when I decided to follow on the steps of Perrault's character and take a day off to indulge in all Mayfair has to offer before a day at the races.*
I started the day being picked up by Dave in a sleek black new Mercedes S 500, with enough space at the back to organise a party if I had wanted to. Since its launch in 1978, the Mercedes S Class has represented the epitome of what a big, luxurious car should be. Now in its seventh generation, the new S-Class proves the brand's ongoing appetite for technological and mechanical improvement.
On the outside, the car looks extremely sleek and elegant. Following the current trend among car manufacturers, the grille is bigger than before. Other design improvements include the head and taillights which now look cleaner, but inside, they are quite complex, with multibeam LEDs and an option to have digital lights that illuminate any obstacles that may appear on the road. The seamless door handles are hidden and only glide out when the car detects the key-fob.
The seamless door handles in the new Mercedes Benz S-Class are not just cool, they also help with the aerodynamics of the car
The new S-Class is available in different equipment lines with two wheelbase length and different engines, Mine was powered by a 3.0-litre, six-cylinder, petrol-powered engine with an added turbocharger, electric compressor and an integrated starter generator (EQ Boose) which does several things, among them, turning the car into a mild-hybrid. It comes with a 9G-Tronic nine-speed automatic transmission standard across the range and the option of 4MATIC all-wheel-drive for the first time in the UK.
But let's face it, if you are reading this, you are more likely to spend more time at the back of the car than at the front, so let's talk about how it feels to be driven around in this modern-day Cinderella carriage.
Our Editor Julia Pasarón makes herself comfortable at the back of the S 500 4MATIC.
As you step into the car, the first thing that surprises you is the elegance of the interior and the ambient lighting, which uses 250 LEDs to bathe the interior in a calming warm glow. The cabin of my S500 was all cream, from the leather seats and consoles to the interior of the doors and even the matts. The car's extra-long wheelbase shows in the amount of space you enjoy both at the front and at the back. At 5'5'', I am not the tallest so I could practically stretch my legs all the way (there are footrest extensions at the back, luxury head restraints as soft as pillows and climatised seats) and have a siesta if I had wanted to; the car is incredibly quiet.
I can imagine how cool it must be to look at the stars through the panoramic sunroof coming back from Prince Charming's party.
The interior is completed with all kinds of gadgets, including a seven-inch touchscreen tablet, mobile charging dock and even Wifi. So, if instead of taking a day off shopping like I did you have to work, it is all fine. The "Hey Mercedes" virtual assistant is also more intelligent than ever, now recognising instructions from any seat in the car. Imagine how much fun that can be for you and how annoying for your driver…
Anyway, where was I? Oh yes! Being driven into Mayfair in Comfort mode (that was my favourite but there are another three: Eco, Sport and Sport+). First stop Hirsh of London. I love what Sophia and Jason Hirsh have done with the family's company and what they stand for. Jason goes all over the world sourcing the best and most sustainable gemstones and Sophia lets her imagination fly to come up with the most exquisite designs. However, what makes Hirsh different – at least to me – is that they treat you like family… and they mean it. Now, that, you won't find everywhere.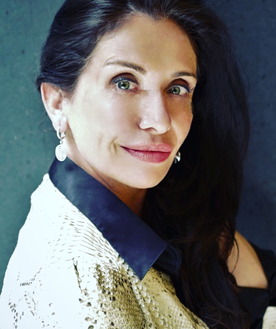 Our editor Julia Pasarón wears Hirsh's Saturn white gold and diamond earrings featuring 364 white diamonds (1.35ct), including 12 set in a Hirsh suspense setting.
As my Fairy Godmother had given me carte-blanche, or should I rather say, her Amex Centurion card, I just walked next door to Lalique, to see what my dear friend Frederique Fischer "had in stall for me" at their flagship store in Conduit Street. The name Lalique has evoked the brilliancy of crystal since René Lalique opened his first workshop in Paris in 1885. Today, Lalique produces not only beautiful crystal jewellery but all kind of home accessories, perfumes and they just acquired a whisky distillery in Scotland!
Julia keeps hitting her Fairy Godmother's credit card hard. This time with Lalique's earrings and bracelet from their 1927/28 collection.
All I needed afterwards was my outfit for the party (in this case at Ascot rather than Prince Charming's palace). Months ago,I had the chance to interview Daisy Knatchbull, founder of The Deck, the only tailoring firm for women in Savile Row. With a choice of over 7,000 of the highest quality cloths and the opportunity to bespoke your lining, buttons, styling details, thread and any monogramming, chances are you'll step out of The Deck with an outfit that will feel truly yours.
A far cry from Cinderella's original outfit, our Editor picked this morning suit by The Deck to go to the races.
My Mercedes S 500 had a boot the size of a small football pitch, so it didn't matter how many bags and packages we put into it. There was always space for more. Safety-wise, this is the car any mother would dream of for her children since it comes equipped with every single safety feature you can think of, including technology that recognises driver drowsiness, warnings if you are about to jump a traffic light, breaks if you are about to crash into something, active steering intervention (all part of the Driving Assistance Package) and an insane number of airbags. Mercedes version of wrapping Cinderella in cottonwool. Oh! And if you dance too much, you can always get a massage. No kidding, the seats have 19 massage points with ten different configurations.
With such an enormous boot, the S 500 can fit all the boutique shopping you could do in Mayfair and then some more.
The new Mercedes-Benz S-Class starts at £80,450 OTR for the S350 d AMG line. The petrol-powered S 500 4MATIC L featured in this article starts at £101,995 OTR.