Shakespeare's Globe – until 13th October
Let me start by telling you this production is unlike any Shakespeare I have ever seen. It's almost as if the Bard went to Glastonbury and spent a wee bit too long in a rave tent.
It's not surprising Director Sean Holmes decided to take a wholly unique approach, when this particular classic is wheeled out time and time again – there are three major productions of it across the capital this summer alone.
This entire show is pitched somewhere between a festival and a drag queen's birthday. There are piñatas, streamers, glitter, pink hair and loads of deely boppers. Members of the Hackney Colliery Band play throughout the performance, really adding an extra layer to the enjoyment. The stand out stars of the show are the costumes: Theseus in a pink satin military suit, Bottom dressed as a piñata, the Athenians in cosplay ruffles and Titania with glorious pink hair and kick-ass silver boots.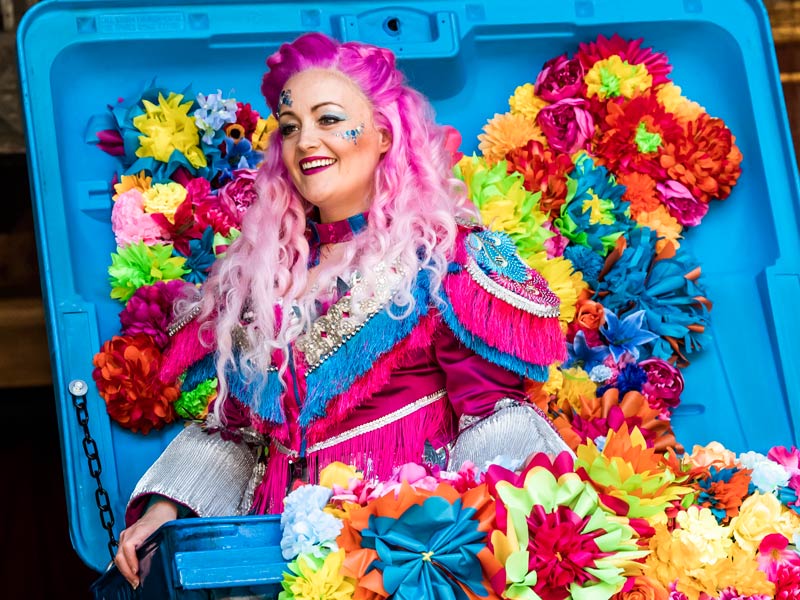 The acting is clever, passionate and energetic. Sometimes a little too much, so it can be hard to follow the plot if you didn't already know the story well. There are many clever twists to the classic, Bottom was a woman (the hilarious Jocelyn Jee Esien), and she gave the character a glorious turn. Nearly every member of the cast plays Puck at sometime or other – to my mind a clever way to show that magic and mischief are in us all. The play within a play is just brilliant, presented like a budget game show or a unique pop up one finds at a festival late at night.
In conclusion, this is the perfect play to take a teenager to. It demonstrates Shakespeare's work is beautiful, poetic and oh so very funny, not a bastion of boredom from GSCE English. Tell them from me its Pucking good!