At the height of the conflict in World War II, Bletchley Park's Hut 4 contained an eclectic group of codebreakers. Everyone from specialists in Egyptology to a debutante who was to become Prince Philip' first girlfriend. Margaret Allan was part of that exclusive group. Not only did she have the intellect to keep pace with academics, but the daring that would set her apart. Codebreaker, racing driver, journalist and horticulturist, Margaret Allan was an extraordinary woman.
Born Margaret Mabel Gladys Allan into a wealthy and unconventional family, Margaret was educated at the liberal and unorthodox Bedales school. The Allan family were progressive and politically active; her paternal aunt was the militant suffragette Janie Allan. Margaret became a keen horsewoman from an early age and in due course was encouraged to swap one horsepower for several as she was taught to drive as soon as she was old enough.
Margaret started motor racing – aged 21 – with the family's Lagonda. There was nothing particularly special about the car, but she successfully completed the London-Gloucester Trial winning the Ladies' Prize, with her driving being described as "neat and fast" by Motor Sport magazine. She continued to enter trials and rally events over the following few years, most notably the 1932 Monte Carlo Rally, where she raced in a works Riley Nine with co-driver Eve Staniland and finished in 10th position. Later that year, with her brother Hamish acting as co-driver, she entered the Alpine Trial, a week-long event which was then considered the most demanding in Europe. This time driving their Wolseley Hornet, they were awarded a Glacier Cup prize for completing the trial without penalty and her driving earned her joint victory in the Coupe des Dames.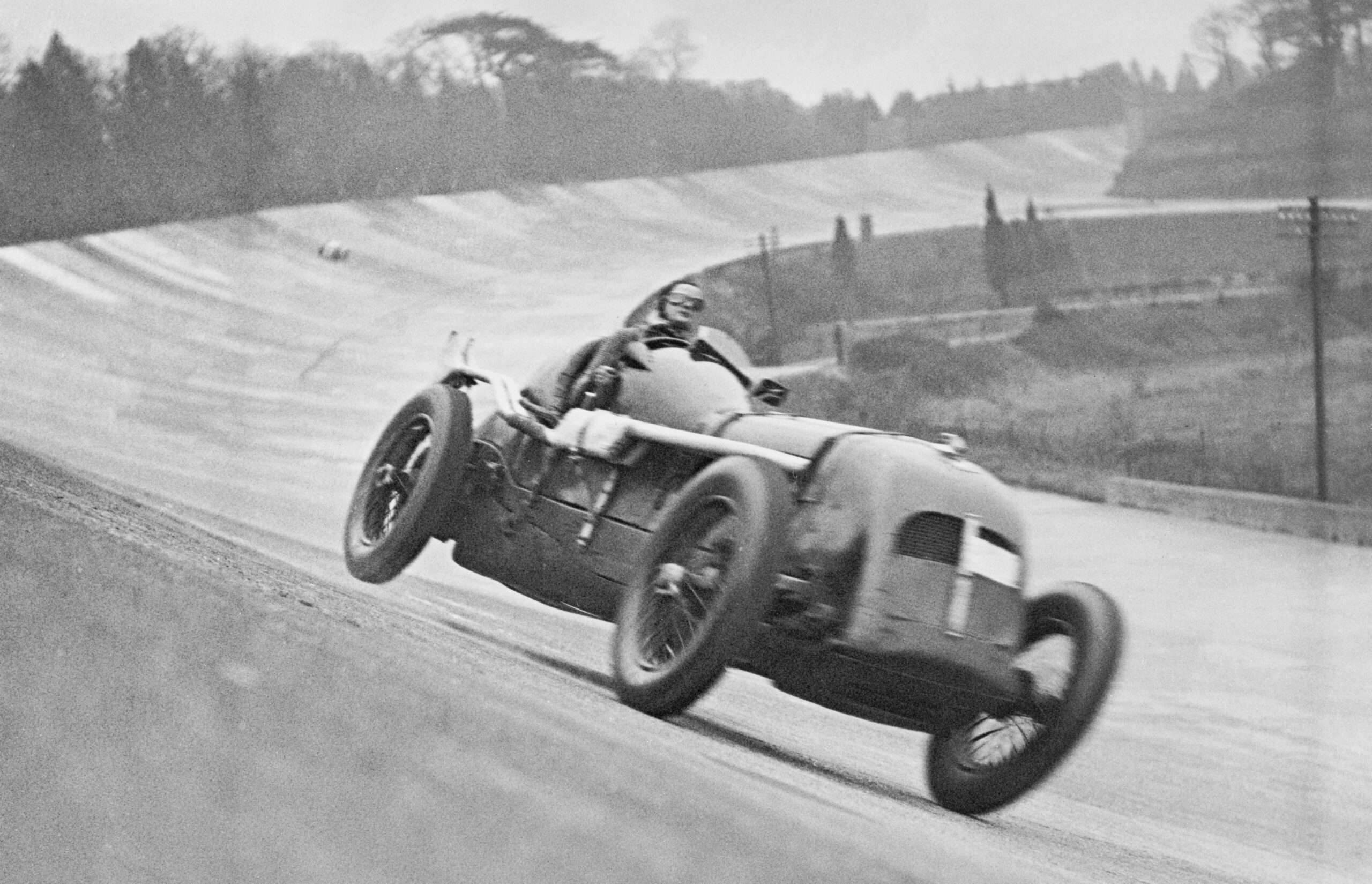 Margaret Allan in Old Mother Gun on the outer Lap of Brooklands. © Getty Images.
Margaret had her first taste of circuit racing in 1932 following a visit to Brooklands. You had to have a special form of nerve to hold your car at over 120mph on the outer lap of that circuit in the 1930s. The track was an uneven patchwork quilt of concrete slabs that were rapidly decaying. Margaret, faster than some of the noted male drivers at the time, was one of only a handful of female drivers who earned Brooklands' 120mph accolade.
Success was almost immediate. The 1933 Inter-Club Meeting saw a change of car and an increase in speed. Margaret had acquired the ex-works 1928 Le Mans winning 4½-litre Bentley "Old Mother Gun" driven by Woolf Barnato and Bernard Rubin. Her first outright circuit race victory was in the Junior Long Handicap event. Showing her form in the more powerful car, her fastest lap was timed at 97.65 mph.
A repeat victory the next year in the same event with the same car attracted the attention of the works MG Cars team and she was asked to join their squad for the Light Car Club's 1934 200-mile Relay Race. The all-female team took third position overall. Margaret maintained close links to MG throughout her career entering the 1935 Le Mans with the same marque as a member of George Eyston's "Dancing Daughters", a three car, all-female entry driving works-prepared MG PAs.
Although there is no clear evidence, it seems that eventually Margaret sold "Old Mother Gun" to one Richard Marker, who upgraded it to a 6 ½-litre engine and fitted it with a streamlined, single-seater body that replaced the original tourer coachwork. She kept racing this car. However, her finest hour at Brooklands was in a single-seater Frazer Nash Shelsley with which she won the handicap race at the August Bank Holiday Meeting – best lap speed of 119.15 mph. In practice she had lapped at 127.05 mph which was quicker than Earl Howe's contemporary race record of 127.00 mph, and only about 10 mph slower than Tim Birkin's all-time best of 137.96 mph. It earned her the 120mph accolade for the circuit.
At the outbreak of World War II Margaret Allan enlisted, unsurprisingly, as an ambulance driver. No doubt she had the talent for the job. After all, driving an ambulance through the Blitz in London was probably similar to taking on the outer banking and competitors at Brooklands. Not a great deal is known about this time in her life, but at some point, her intellect and ability in problem solving must have been noted as she applied and was accepted by the Government Code and Cypher School (GC&CS) at Bletchley Park.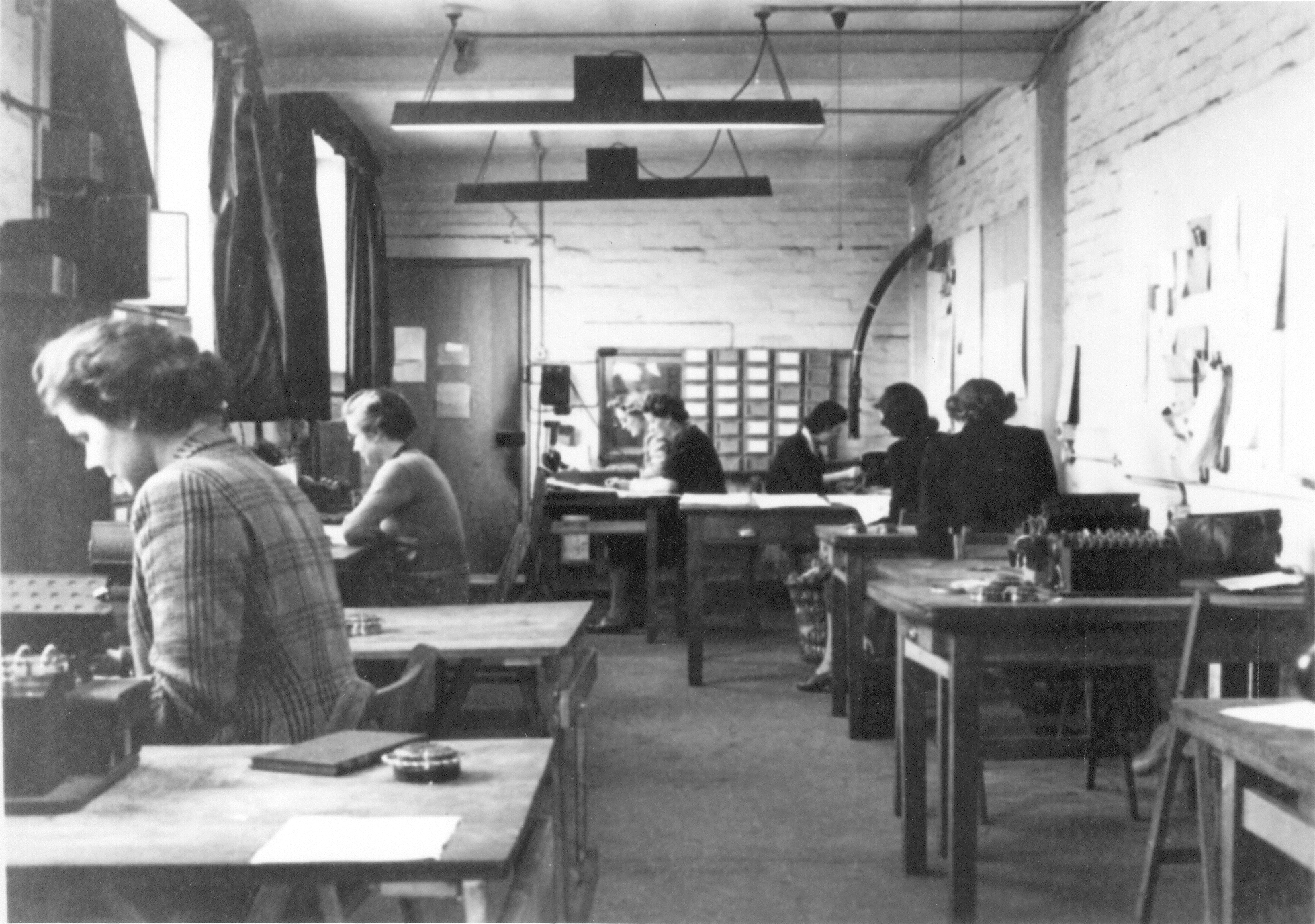 Bletchley Park September 1938, GC&CS BP visit. Credit: Judie Hodsdon via Bletchley Park Trust
Winston Churchill had visited Bletchley in September 1941 and instructed Dennison (in charge of Station X – as it was known) to find any and all individuals required by whichever means necessary. One such method was a crossword puzzle in the Daily Telegraph where successful completion was coupled with a request to send the result in, after which they were invited to undertake "a particular type of work as a contribution to the war effort." It was unknown if Margaret joined the team this way or through an application, but she did take up her position shortly after the puzzle winners took up theirs at Bletchley.
The collection of eclectic staff of "Boffins and Debs" caused GC&CS to be whimsically dubbed the "Golf, Cheese and Chess Society". A breakdown of the people in Hut 4 certainly tends to endorse the view. Among Margaret Allan's contemporaries were J. W. B. Barns – later Professor of Egyptology at Oxford, Sarah Baring – who'd become Viscountess Astor, Osla Benning – Prince Philip's first girlfriend, Leonard R. Palmer – later Professor of Comparative Philology at Oxford, along with historian Sir Harry Hinsley, who'd rise to Vice Chancellor and Professor of International Relations at Cambridge University.
At the time, Alan Turing and the codebreakers in Hut 6, had found their way to deciphering the Enigma coded messages, the transcript of which were divided between Hut 4 and Hut 8. The former was responsible for the translation, interpretation and distribution of the German navy messages deciphered by the latter. The messages were largely encrypted by Enigma machines. As the German navy operated Enigma more securely, Hut 8 had less information for Ultra than Hut 6 which handled Army and Air Force messages. Hut 4 had the additional task of various hand cyphers and some of the Italian naval traffic. The work at Bletchley, according to Sir Harry Hinsley's official account of the Bletchley Park war effort, reduced the duration of the war by one to four years.
Machine Room Hut 6 Bletchley Park. © by kind permission Director GCHQ.
After the war Margaret (now married to Christopher Jennings) became a journalist and was Vogue magazine's very first female motoring correspondent for many years in the 1940s and 1950s, as well as providing road test articles for The Motor, Autocar, and other motoring magazines.
Still proving that she had the speed to compete, in 1950 Margaret made one brief return to competition in the Circuit of Ireland rally. Despite having been absent from competitive motorsport for well over a decade, she won the Ladies' Prize. Even into her later years, past her 80th birthday, Autocar magazine invited her to test three sports cars and despite the advances in motor vehicles, she proved too fast for the photographer to cover the story, so the article had fewer pictures than planned.
Her husband was also a motor journalist (later editor of The Motor) and retired racing driver. They had one son. They moved to Gellideg, Carmarthenshire, where Christopher became High Sheriff in 1957. As she grew older, she became a proficient gardener and won multiple Royal Horticultural Society prizes over the following decades, as well as exhibiting at the Chelsea Flower Show. Margaret Jennings died in Carmarthenshire, aged 89, in September 1998.
Words: Dr Andrew Hildreth
Opening picture: Margaret Allan in a Bentley. © Mundalis Photographic Library