Most whisky enthusiasts will know Macallan, however, an appreciation of its long and rich history should also be acknowledged. In 19th-century Scotland, the Crown was steadily increasing the taxes for whisky distillers which eventually drove many of them underground. Illegal distilleries were common, and they were churning out sub-standard variations due to their fear of being discovered. However, one region stood out from the rest – distilleries in Speyside continued to produce great whiskies and attracted attention from the likes of King George IV. Championed by The Duke of Gordon, people began to pressure the government to abolish the ridiculously high taxes, thus paving the way towards the establishment of the new 1823 Excise Act. Under the new regime, distillers were given a license to operate in exchange for an annual fee of £10 and a per-gallon duty fee.
In 1824, The Macallan emerged from its previously clandestine existence when the founding father, Alexander Reid, obtained a license to operate and leased eight acres of land situated on a plateau above the river Spey. Surrounded now by a 485-acre estate with Easter Elchies House at its heart, each Macallan single malt whisky exhibits an unrivalled commitment to the mastery of wood and spirit.
Easter Elchies House, on the heart of the Macallan Estate, is the spiritual home of the celebrated whisky brand.
Linked by a Scottish heritage, Bond's whisky of choice became The Macallan, reflecting their synergy and his appreciation for the finer things in life. In a collaboration with EON Productions – the film makers behind the James Bond franchise, Macallan have recently announced their new limited-edition collection of single malt whiskies to celebrate the 60th anniversary of James Bond. This remarkable compilation comprises of six limited edition bottles inspired by the six decades of 007. Each bottle features an original illustrative design which is coloured in muted tones and labelled with Roman numerals to denote the decade it represents. The distinctive packaging brings to life the creative development process of the films, through a behind-the-scenes exploration of the James Bond archives.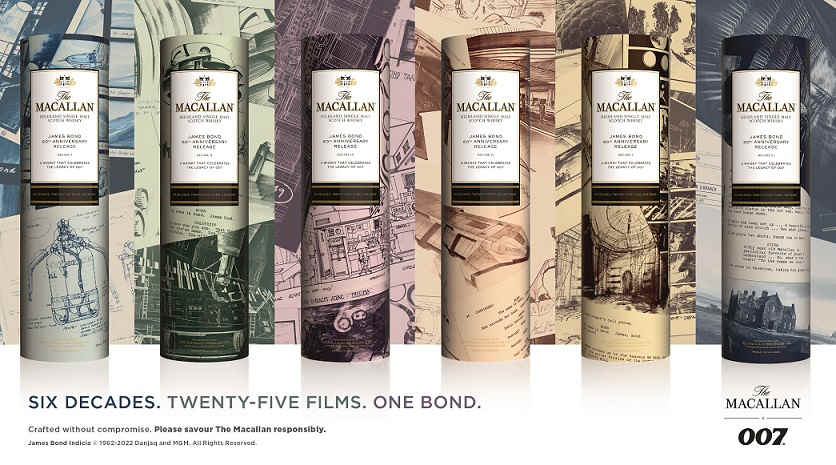 The Macallan James Bond 60th Anniversary Collection comprises of six limited edition bottles inspired by the six decades of 007.
The Macallan Master Whisky Maker Kirsteen Campbell has transcended previous blends with her most recent creation – an elegant expression exhibiting extreme grace and balanced by remarkable strength and character – just like Bond himself. The Macallan James Bond 60th Anniversary Collection has a natural hue of Suisse gold, and as a homage to James Bond's agent number 007, an ABV of 43.7%. Inhaling the aroma, you will discover the fresh vibrancy of lemon and lime with a sprinkle of sherbet, leading into sweet vanilla and coconut, and rounded off by a hint of dried fig and raisin. Tantalising your palate are notes of orange zest and fizzy sherbet with a lemon freshness, gentle oak, and subtle ginger spice, developing into a deep dark chocolate, figs and baked apple tart, and a honey drizzle.
The Macallan James Bond 60th Anniversary is sweet and long in the mouth, with complex layers, and an expression that exudes style and maturity.
The Collection is available in-store at Harrods priced at £700 per bottle, from 19th February 2023. More details HERE.
Images of The Macallan James Bond 60th Anniversary Collection -James Bond Indicia © 1962-2022 Danjaq and MGM. All Rights Reserved.