As little as 15 years ago the initials "IWC" meant nothing to anyone who was not a dyed-in-the-wool horophile. But now the historic brand is widely recognised as a major player on the luxury watch
 

scene, with everything from its earliest vintage pocket watches to its latest "haute horlogerie" creations being highly sought-after by collectors.

The initials stand for "International Watch Company" and it operates from a recently extended, state-of-the-art factory in Schaffhausen in the far north-east of Switzerland, a town separated from Germany by the mighty Rhine and close to the Rhine Falls, Europe's largest waterfall. The firm has been a fixture of the chocolate-box-pretty medieval town since its founding in 1868 by an audacious 27-year-old American called Florentine Ariosto Jones who, having honed his horological techniques in Boston, decided to start his own business in Switzerland where the skills base was rich and the wages were low.

After getting the cold shoulder from workers in the west of the country who were fearful of his plans for mass production, Jones met Schaffhausen industrialist Heinrich Moser who rented him factory premises beside his recently opened Rhine hydro plant. But Jones's dream was not to last – IWC went bust in 1875 and was taken over by the Schaffhausen Handelsbank the following year. Having passed through various owners and drifted ever-closer to becoming a footnote in horological history, IWC was revitalised during the 1990s by watch industry doyen Gunter Blumlein in advance of its purchase by luxury goods giant Richemont in 2000.
Since then, it has grown from being a relatively niche brand to one with 1,000 points of sale around the world, of which 70-are stand alone boutiques in locations such as Hong Kong, New York and Beijing. As well as being strong in Germany and the U.S, IWC has surged forward in Asia of late, where it has stolen market share from direct competitors such as Rolex, Omega and Breitling.
It fosters a strong eco-friendly policy with its  state-of-the-art, CO2 neutral manufacture and by backing  high profile conservation projects such as those run by the Cousteau Society and the Charles Darwin Foundation – but at its core is a reputation for  engineering excellence that, over the decades, has manifested itself in products such as the rugged pilot watches it produced during the 1930s and '40s, the ingenious pawl-winding, bi-directional automatic movement invented by Albert Pellaton, and the ultra anti-magnetic Ingenieur watch designed for scientists and lab technicians in the late 1950s.
The original Ingenieur had its mechanism contained within a soft, iron inner case capable of shielding it from a magnetic force of up to 1,000 Gauss, but was re-designed during the 1970s by the legendary Gerald Genta, who also penned the distinctive Da Vinci form watch launched in the '60s. In 1985, the Da Vinci became available with a complex chronograph, perpetual calendar mechanism which paved the way for the mind-boggling Il Destriero Scafusia launched in 1993 to mark IWC's 125th anniversary. Containing 750 individual components, it offered 21 functions and was, at the time, the most complicated wristwatch ever made.
Perhaps the brand's signature model, however, is the Portugieser that was chosen as the cornerstone of this year's special collection designed in honour of IWC's landmark 150th year.
The line harks back to a design first produced in 1939 at the request of a couple of watch importers from Lisbon and Oporto called Rodriguez and Teixeira. They believed there would be a demand for a large-sized wrist watch with the accuracy of a marine chronometer – the opposite of the prevailing trend for small, neat timepieces in the Art Deco style.
IWC responded by installing a highly accurate pocket watch movement in a plain, 41.5mm case with the option of simple black or silvered dials. The "Portuguese" was made in small numbers until 1958 (plus a very few for the German market in the '70s) before being revived, also in 1993. For this latest anniversary, the brand created  27 limited edition watches, including special versions of the Big Pilot's, Portofino and Da Vinci models and a wrist-worn interpretation of the late 19th century Pallweber pocket watch, featuring its unusual 'jumping numerals' display.
But the Portugieser was afforded anniversary star billing, with no fewer than five different models being created to mark 150 years of IWC –  the highlight being a "constant force" tourbillon in an edition of just 30 pieces in platinum. In addition to relying on its historic models, however, IWC works hard to be on trend by maintaining what must be one of the largest rosters of celebrity ambassadors in the business.
On-message thespians include recently-recruited Bradley Cooper, who joins Cate Blanchett, Rosamund Pike, Sir Patrick Stewart, Dev Patel and James Marsden in support of the brand, which also has partnership roles with international film festivals held in London, New York, Beijing, Dubai and Zurich as well as the British Film Institute.
F1 stars Lewis Hamilton and Valtteri Botass are among IWC's official sporting representatives due to its sponsorship of the Mercedes AMG Petronas team, while cycling heroes include Fabian Cancellara and Patrick Seabase. What could be regarded as the brand's near obsession with celebrities harks back to the days of its former CEO, watch industry veteran Georges Kern, who spent 14 years in the role before taking up his current post as boss of rival brand Breitling in the spring of last year.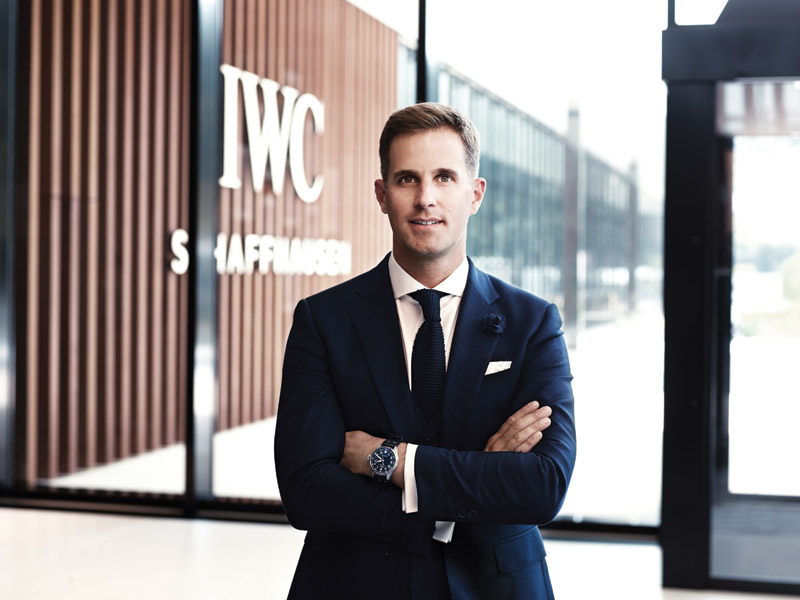 The man in charge today is the youthful Christoph Grainger-Herr, a trained architect who was mentored by Kern having joined IWC in 2006 and being put to work across several aspects of the business.
Here, he tells I-M's editor, Julia Pasarón, how that decade of preparation is helping him to lead the company.
I-M: You took over at IWC after 10 years in the company. What did you learn along the way that benefits your role as CEO?
C.G-H: I joined IWC in 2006 and worked in various functions across marketing and sales, which gave me a strong understanding of the business. I was involved in many of the strategies in place at the manufacture. Working in different areas of the company enabled me to pick up more pieces of the puzzle, putting me in a great position to be responsible for IWC as a whole and to oversee, for example, the full product development cycle.
I-M: This year marks IWC's 150th anniversary. From its beginning under founder F.A. Jones, IWC has demonstrated an outstanding innovative spirit. Is innovation as important today as it was then? 
C.G-H: We look back on a 150-year history, but we strive to balance heritage and innovation. F.A. Jones came to Switzerland with a visionary, entrepreneurial idea and every new generation brings a fresh approach. Although our products are built for eternity, the way we design, make, sell and talk about them constantly evolves. The most significant innovations are occurring in manufacturing and distribution – in our new manufacture we're fusing traditional craftsmanship and state-of-the-art technology. We have also embraced e-commerce, social selling, and launched an easy-to-use online configurator, allowing customers to design a personalised Ingenieur Chronograph.
I-M: What other factors contribute towards giving IWC a competitive advantage?
C.G-H: We have a broad product portfolio with six well-established watch families and are probably the brand most focused on storytelling. Each watch family tells its own story – our pilot's watches, for example, bring the centuries-old dream of flying to the wrist. We also offer a broad spectrum of products from affordable luxury to Haute Horlogerie, and we have an identifiable design code that has led to many of our watches becoming classics. A well-balanced geographical presence in key markets and a robust e-commerce offering to complement our physical distribution network are also important to IWC's success.
I-M: The female market has become important for luxury watch makers. IWC launched the Portofino for women in 2014 and, more recently, the Da Vinci and some 36mm Pilot watches. Could the female market become larger than the male market for you?
C.G-H: IWC has been producing women's watches since the 1880s, and ladies' models were an integral part of our portfolio, especially during the 1980s. We recently expanded our product offering to women because, in markets such as Asia, there is a high demand for more elegant timepieces with a smaller diameter. 
European and North American customers, however, value our approach to precision engineering and the functional, 'tool watch' roots of many of our products. What's essential is that we have attractive offerings for both male and female customers.
I-M: I understand IWC is committed to contributing to the agenda set out in the United Nations Sustainable Development Goals, (SDGs) and that you are a partner of both the Charles Darwin Foundation and the Cousteau Foundation. Why would IWC get so involved?
C.G-H: We want to create long-term value for both our business and society, and preserve our heritage of quality, craftsmanship and innovation. We recently published our first sustainability report following the GRI's global best-practice standards. Because we strictly measure and manage our progress, we have become a pioneer in the Swiss watch industry. We aim to create full transparency about the impact of our business on the economy, the environment and society, and we are working towards achieving our targets and supporting the UN Sustainable Development Goals.
I-M: IWC has many other partnerships: film, racing, the Antoine Saint-Exupery foundation, the Laureus foundation. Isn't there a worry about diluting the brand?
C.G-H: Each partnership supports a particular element of the brand or a particular product, depending on regions and audience. We adjust the blend of messages in our communication and focus on building the appeal of the IWC brand globally, through the beauty of our creations, their innovative technical content and the power of the stories we tell.
I-M: The luxury watch market has become very competitive. In which markets are you expanding, and how do you plan to stay at the forefront of haute horlogerie?
C.G-H: Asia and North America are crucial growth markets for us, and we have always enjoyed a strong position in Europe. True to the engineering spirit of our founder, we build complications with a high functional value such as our annual calendar, or we underscore our leadership role in the use of innovative materials. Recently, we introduced Ceratanium, a groundbreaking new material combining the lightness and robustness of titanium with the scratch resistance of ceramic.